BAADS Karma vs. Bad Karma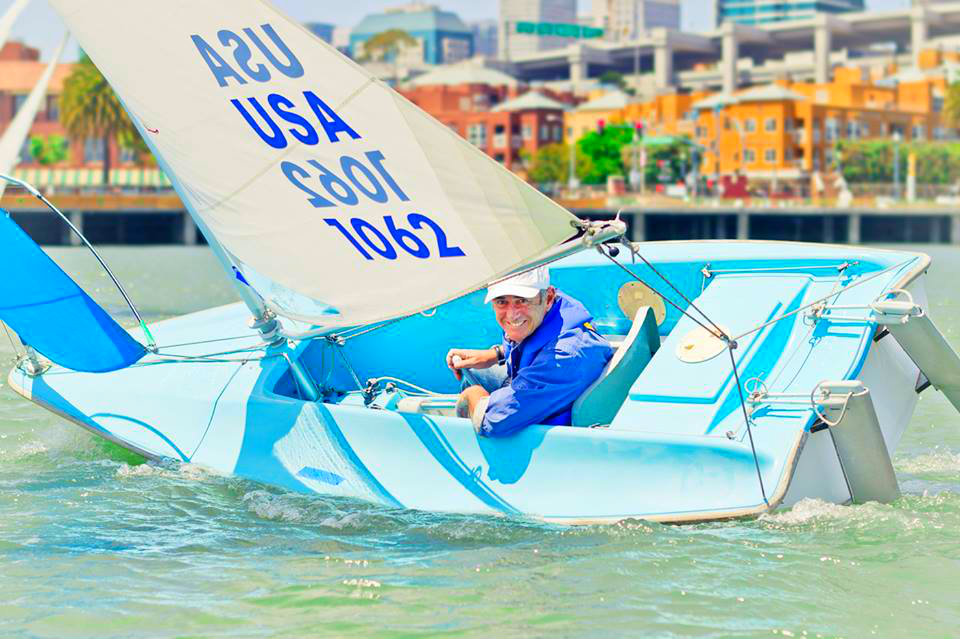 The smile says it. Loïck Peyron as captured by Chris Barrineau
Just days after a heartfelt celebration of sailing and racing, joined by the great Loïck Peyron, the Bay Area Association of Disabled sailors was ripped off for all five of the outboard motors that power its rescue boats and make the whole show—and it's a good show—possible. From the most marginal of beginnings this dedicated, industrious group has grown into a small powerhouse of enablement. Sure, they get people out sailing, but it's more than that. It's freedom from a wheelchair, from crutches, from paralysis, freedom to breathe fresh air, to move, to make choices, to tack a boat perhaps by moving a chin because the chin is all that works but, hallelujah, it does work and there's a big smile above that chin and . . .
Yeah, Peyron sailed two races and won two races. That's what he does, and he demonstrated ashore that his heart is as big as his accomplishments on the water. But I think he would want me to stop there, and I just did.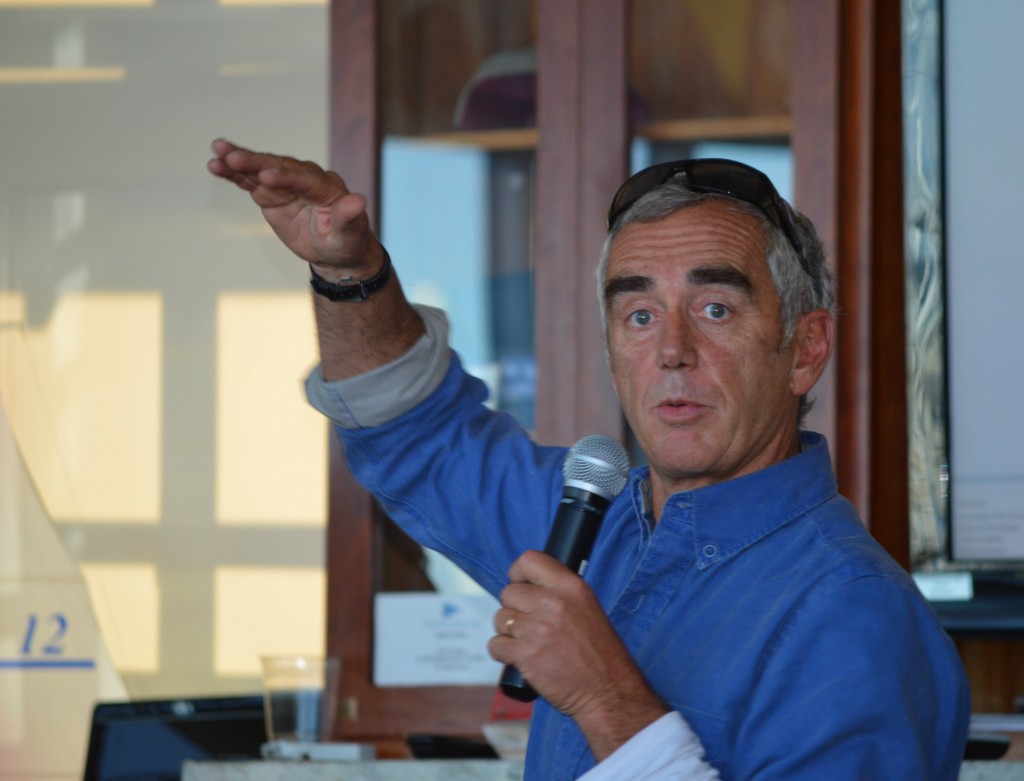 Photo KL
Meanwhile, I learn from BAADS stalwart David Fazio that the team was already challenged to raise $10,000 to stage its North American National Access Regatta September 3-6, and the slope just got steeper. I hear elsewhere that there is a new security agency working San Francisco's South Beach Harbor, where BAADS is located, and they've been less than a shining success story. Until the chase boats are powered again, Fazio says, "No more dinghy program." Outboard donations, anyone?
And, far be it from me to wish ill upon anyone, but as for whoever made off with those outboards, it wouldn't seem wrong if they shared the experience of that mugger whose video has gone viral down Colombia way. I'm just sayin'.
Crewing for Nettie Wijsman, I got in a bit of sailing time myself, and she brought me home in one piece. It was a blustery day, with the racecourse laid just off Pier 30, where the Emirates Team New Zealand and Luna Rossa camps are taking shape. Dwayne Newton caught the shot . . .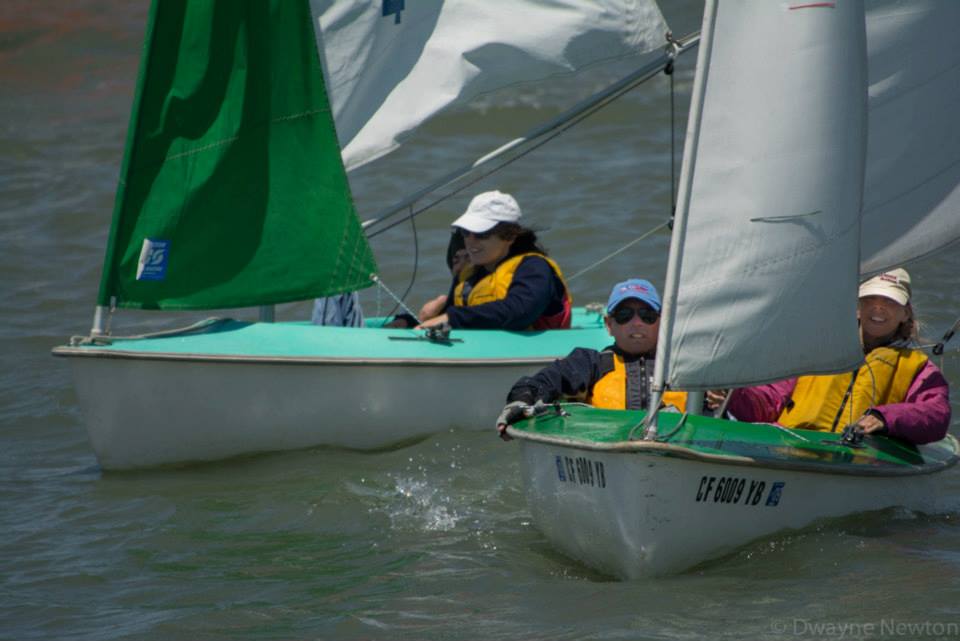 Photo by Dwayne Newton
And Fred (why can't Fred just relax and have a good time?) Eagle sent me this . . .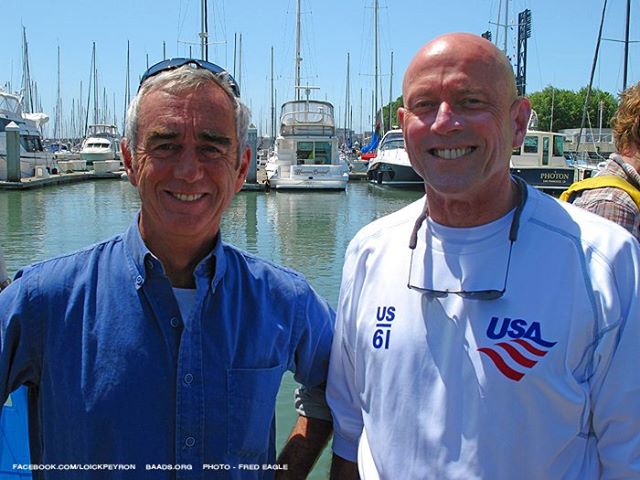 Photo by Fred Eagle
COMING AT YA
John Sangmeister launched his Tritium Racing trimaran on Tuesday on San Francisco Bay and hit 28 knots on the opening sail. This is the same tri that Artemis used for wing testing in Valencia and shipped along with everything else to California. Tritium is Transpac bound in July with a 17-knot average to beat to set a new record for the course from Point Fermin to Diamond Head. Twas a bit misty on ye olde bay . . .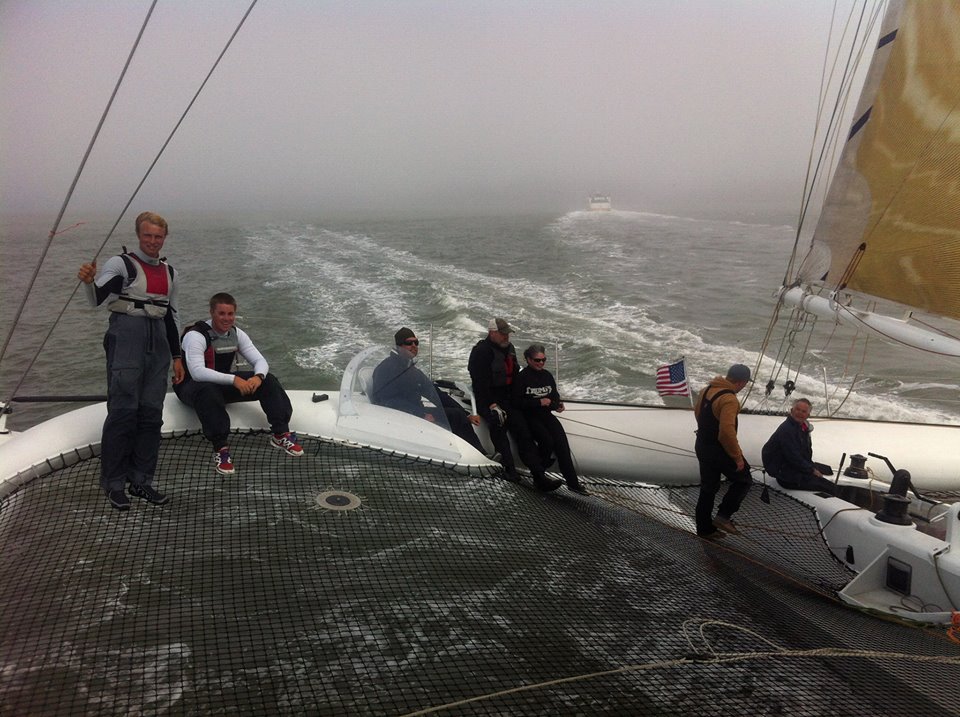 Photo by Ryan Breymaier
The boat was originally Jean Le Cam's ORMA 60, lengthened by Artemis to 73 feet for its testing purposes. Sangmeister and his boat guru, Ryan Breymaier, kept the added length but had to restructure the center hull to re-adapt it to a mast and sail. Look for Tritium in Long Beach, off Gladstone's, soon, in company with l'Hydroptere, which is already in Southern California.

YOU GOT TO HAVE A DREAM, IF YOU DON'T HAVE A DREAM
HOW YOU GONNA MAKE A DREAM COME TRUE?
Kame Richards has earned his stripes as one of the good guys in the sport, and he's always in there pitching to make things better. If it's hard to get kids out to the water to introduce them to sailing, Kame thought, well then, maybe we bring sailing to the kids. One result was this, as seen in a Fourth of July parade through the streets of Alameda . . .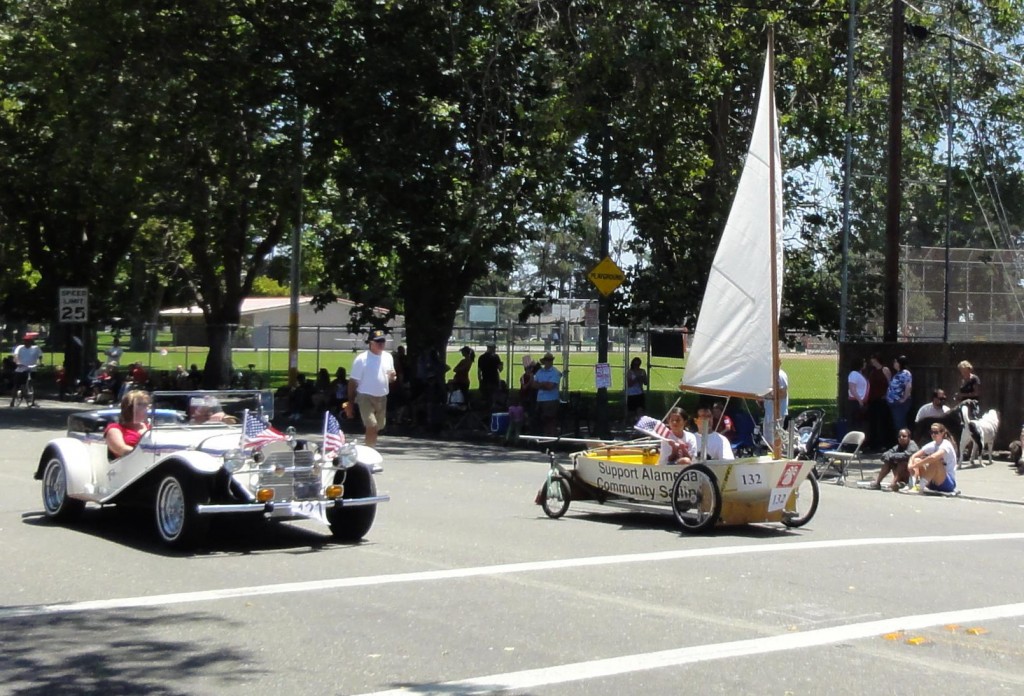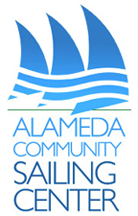 The big project, however has been to launch a community sailing center in Alameda, and you might as well believe it's going to happen, because it is. You can join the launch at the Pineapple Sails loft coming up.

The Alameda Community Sailing Center Launch Party
Friday, May 31, 2013. 6:00 PM – 9:00 PM
Pineapple Sails, 2526 Blanding Avenue, Alameda, CA 94501
To RSVP, click here
WOODEN SHIPS ON THE WATER, OR ON THE WAY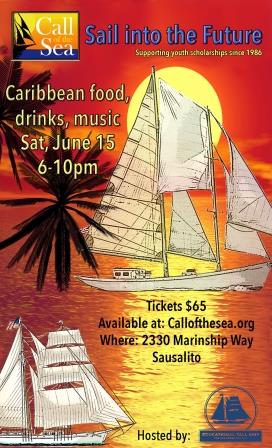 Call of the Sea is offering a fun way to help them toward their goals of furthering education and wooden ship building. Think Schooner Seaward, and think Educational Tall Ship. It's not complicated, and it's in beautiful Sausalito.
.