BIGFOOT SIGHTED ON GRASSY KNOLL
Congratulations to anyone whose Facebook account has not been hammered with postings about an alleged, illegal, computer-driven hydrofoil-stability system aboard Oracle Team USA. Once these things get loose, you can't kill them.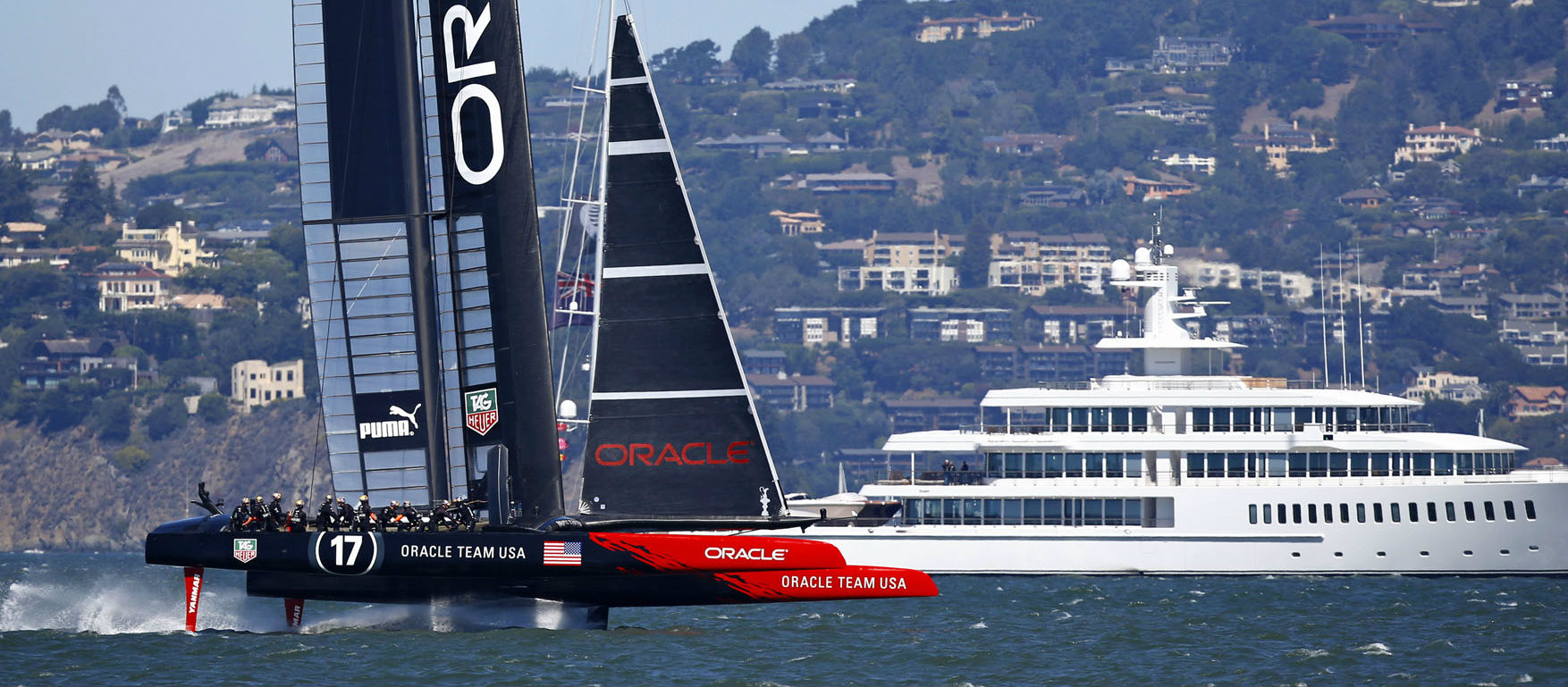 Photo by Jan Pehrson
But, if you want to get a grip on reality, there are two ready touchpoints.
On Friday, Team New Zealand boss Grant Dalton told the New Zealand Herald that he had no thought of legal action.
And, you can read the International Jury's Public Interpretation No. 49 (read it here: PI-49) which was dated August 8. At ETNZ's request, the Jury—including one Kiwi and zero Americans—considered the legality of the board-control system installed on the US defender.
The Jury ruled the system to be human-controlled and legal.
The inquisitive among you will want to see the diagram of the small spring in the linear actuator, the only component of the system that ETNZ was challenging. The diagram is included in PI-49. (BTW, it's not even clear that Oracle sailed with that spring.)
All of this was history long before somebody(s) pulled this rumor out of the mill and, in the process, wasted a heap of cybertime.

Five on My Scorecard
On my scorecard, there have been five occasions in the 162 years of the America's Cup when the competition became a national obsession. Each time, the story line was David vs. Goliath.
1851: David vs. Goliath: Britain rules an empire because Britannia rules the waves, but a cheeky young republic sends its own special breed of boat to race the POMs in the year of the Queen's Great Exhibition, a world's fair featuring the display of national technologies. The Yanks had the gall to name their boat America, but had it been Mama's Mink, we would have been saved a heap of bother.

1983: David vs. Goliath: America is the Power That Be, and the cheeky Aussies come to town with a better mousetrap and take away the Cup despite Dennis Conner's nearly-successful defense with a slower boat. To this day, I know how to stir up an argument over whether or not Australia II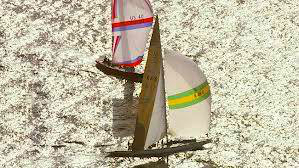 was class legal, but it don't matter now, no how. Just days ago the Aussies held a reunion to celebrate their victory. My Aussie journo counterpart, Rob Mundle, dashed off a note, "Just arrived in Sydney for the 30th Anniversary celebration of Australia II's win in the America's Cup ~ September 26 1983, Newport, Rhode Island (the end of the longest winning streak in sporting history!) Just had lunch with Bondy, who has flown in specially from London. We're all getting out of bed early (6am) to watch the final San Francisco showdown, then, regardless of the result, get on with one hell of a party. It's going to be a fantastic reunion, and a huge celebration. Almost the entire AII crew is here for a huge lunch at the Hilton Hotel. 500 paying guests – it's a sell out."
And a word of follow-up: I hear the celebration went very well.
1987: Goliath strikes back: Dennis Conner reclaims the Cup in straight races in a match that electrifies both Australia and America. Those who were part of it are still saying, Thank you, OZ.
1995: David vs. Goliath: A superior Black Magic, sailed by Team New Zealand, takes the Cup in straight races in San Diego. Following the Australian model, the country goes cheerfully nuts. (Russell Coutts arrives on the AC scene as a New Zealand national hero)

2013: David vs. Goliath: Prepared to once again go cheerfully nuts, and already talking waterfront renovations and historical displays as Team New Zealand racks up early wins, David's stone flies but misses the mark. In our joy at winning, even the most rabid of San Francisco Bay supporters (like, totally, me, for example) found no joy in the defeat of the Kiwi team (though, Grant, you may have overachieved on the slur campaign). At times it was surreal. For the CEO of his Oracle Racing, Larry Ellison had hired the winningest guy in Cup history (a certain former New Zealand national hero) because that's what Ellison does. The consequence was that I and mine in San Franciscoville were caught in a Kiwi crossfire.
Oh well, we move on. My favorite image of AC34 was shot by our local, Abner Kingman, working for the America's Cup Event Authority. Right place, right time.
And the next America's Cup is going to be fine—Kimball