Is Anything Alright?
The most "normal" thing in yacht racing is adjusting the design rule that, when you wrote it down, looked airtight and sure to produce exactly the boats you had in mind. The discovery that you gotta perform emergency surgery on your baby feels sorta . . .
Uncomfortable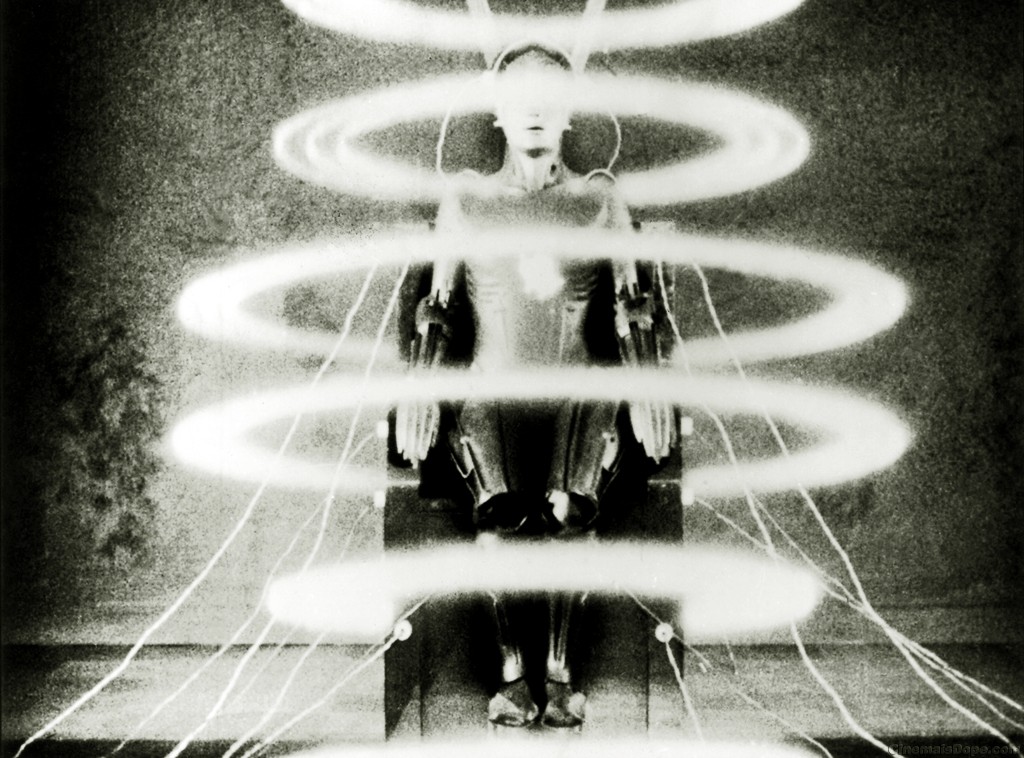 But adjustments are made in the interest of producing a good fleet and good racing.
Except in the jabberwocky world of America's Cup.
In this world, the advantage calls of Starboard! and Leeward! can be expanded to include Gotcha!
Alinghi learned as much in 2010. The Mercury Bay Boating Club learned as much (when it got out-Gotcha'd) in 1988. The New York Yacht Club learned as much in 1983. Next up?
No one cares about the future of the AC72 fleet. A next-generation AC catamaran, if there is one, could be 72 feet, or not. The AC72s now sailing (or not) on San Francisco Bay are history. Subject to the fortunes of war, someone already has won, and someone already has lost, the 34th America's Cup. Like the defender Reliance in 1903, like the challenger USA-17 in 2010—both of which never sailed again after winning the Cup—the AC72s are of and for the moment. As I sift through the reams of words debating the merits of the case for and against the full package of Regatta Director Iain Murray's 37 safety recommendations, and whether or not all 37 are about "safety," and the timing and the manner in which they were discussed and agreed to (or not), and will there be an event permit without all 37, I find myself swimming in a toxic vat of asymmetric versus symmetric and May 22 versus one-week-before and there is emotional commitment on both sides and the best I come away with is:
He Said, She Said.
My report.
I am taken to task on the one hand for not seeing through "the smoke and mirrors" of the challengers' arguments.
I am taken to task on the other hand for failing to appreciate that the Regatta Director has acted to modify the class rule—allegedly advantaging the defender and challenger of record—without the consent of all the teams.
An engineer for one team asserts, "If the rudder extends beyond maximum beam, and someone falls overboard at speed, how is this a safety improvement?"
An engineer for a rival team remarks, "That's the lamest argument I've ever heard. Have you seen how deep the elevators are?"
I am advised that Luna Rossa has twice spun out downwind, and the recommendations are meant "to protect them from themselves."
No wonder they don't like it.
And the long view: No one is required to foil, so if you can't foil, or foil safely, whose problem is it?
In this video, Oracle tactician Tom Slingsby, a man with his hands on pitch control—says that "whatever the Jury comes up with, we'll comply with the rules."
Given a comparable video from the other side, I would certainly link to that too. Howzabout, instead, a view of a foiling gybe . . .
Meanwhile, some worry that the International Jury might decide it does not have jurisdiction, in which case there might be nowhere to go but back into the cold storage of last resort, the courts of New York, where the America's Cup Deed of Gift was formalized so long ago and where, however necessary it may have been, too, too much time was lost, post-2007. The scene in that hopeless scenario—unless someone blinks—would be all too much like Niagara Falls frozen over . . .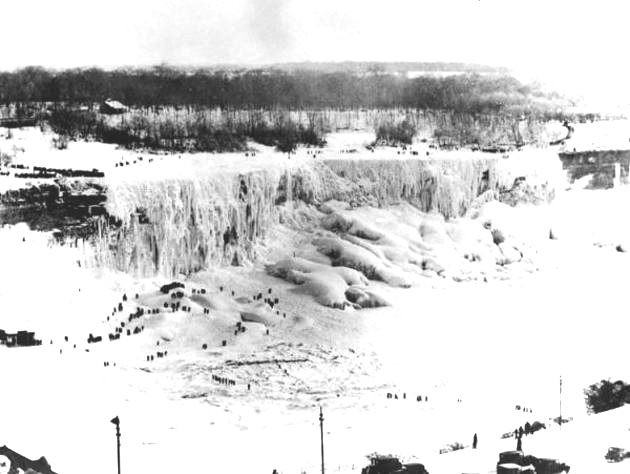 .
I figure, in all likelihood, this gets sorted and we move on. In the meantime, it's all about foxholes and incursions amidst the fog of war and waiting for a Jury ruling on Wednesday, and Race 2 on Tuesday between ETNZ and un-Artemis rivaled Race 1 in the category of non-events. Except, after beating its Race 1 time, ETNZ sailed back to the West Bay for more practice. Two points plus?
.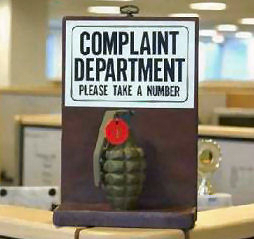 Laying a little Mau Mau on the defender is the longest and greatest of America's Cup traditions, but in 2013 it's a bit more complicated, since the defender (Golden Gate Yacht Club/Oracle Team USA) delegated operational responsibility to two newly-invented entities, America's Cup Event Authority and America's Cup Race Management, to act independently. ACEA should be thought of as a startup seeded by Larry Ellison to develop into a profitable sports-marketing business based upon the America's Cup. That effort augured in some time back, and as Tom Wolfe uses the phrase in The Right Stuff, "was burned beyond recognition." It was not an easy sell in a global economic meltdown, however you color it.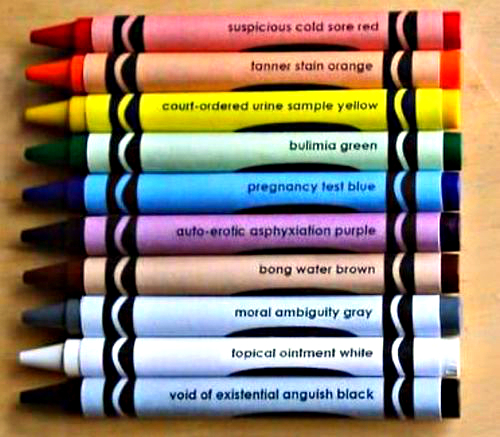 .
I see no pretense of the Event Authority as being independent at this point. But, as the International Jury hears arguments on Ruddergate, the independence of America's Cup Race Management is front burner stuff. As I recall, ACRM filed a brief in support of the decision of the International Jury when that body supported the measurement procedures whereby the Kiwis and Italians legitimized their foiling system. That ruling denied the protestations of the defender and the challenger of record.
The same ACRM that is now being accused of being in bed with the defender. Step right this way . . .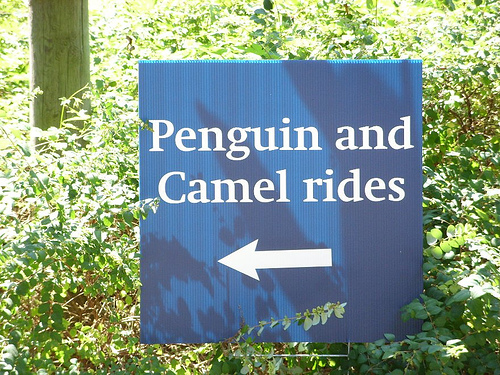 .
In 1987 I watched Iain Murray lose the America's Cup to Dennis Conner, but I never saw him this stressed.
ACRM is populated by people whose futures depend upon their professional reputations for doing the right thing. I suppose Murray is the exception. His success in boat design, building and waterfront development suggest that he's not hanging on an outcome in San Francisco in 2013. It would also suggest that he's not for sale. Or as Emirates Team New Zealand director Grant Dalton put it to me before the team left Auckland, "At least Iain Murray is honest."
I probably owe it to the record to add that Dalton said as much in the context of implying the opposite of a different prominent player. Nobody has more fun than us.
So we have the sub-spectacle of Emirates Team New Zealand going twice to the start line of the 2013 Louis Vuitton Cup all by its lonely. Even at a peak speed of 49 mph, it wasn't the same without another boat dashing alongside. When you're older, I'll explain.
Meanwhile I believe (hope) it won't go nuclear, but in the moment, trying to balance (and failing) the promise and promises of AC34 with the realities of the moment, I just, I just, I just feel disoriented . . .
The thirty-year relationship of Louis Vuitton and the challenger elimination series sets a record in sports marketing, but what does the future hold? Vuitton excused itself from further participation post-2007, dismayed by the handling of an otherwise-fine event by the then-defender, and his plans for the next round. For Vuitton, coming back in 2013 was a vote of confidence in the vision of a total makeover. Coming back yet again, methinks, would take a deep-reach vote of confidence amidst the disarray of "interesting times." Mind you, I don't have any inside skinny on this. I just observe and wonder.
Under the guidance and nurturing of Bruno Troublé, over 30 years, the Louis Vuitton Cup took on a life of its own and—
Baby, please don't go. This was the receiving line for the kickoff party, 2013, at the Legion of Honor Museum . . .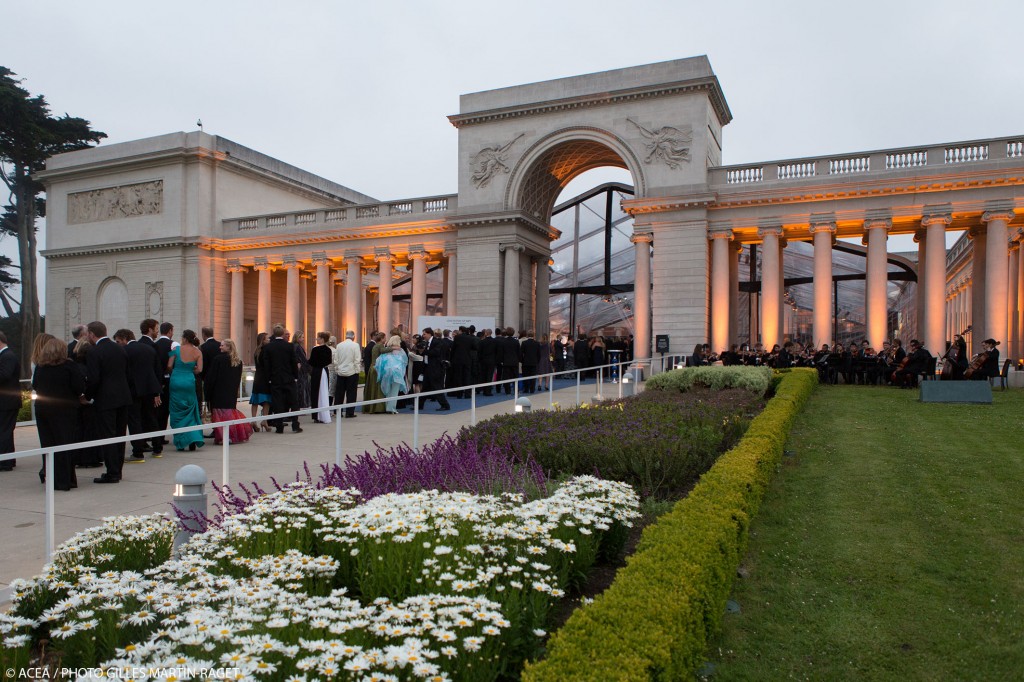 .
And among the many sight'ems within, très français . . .
.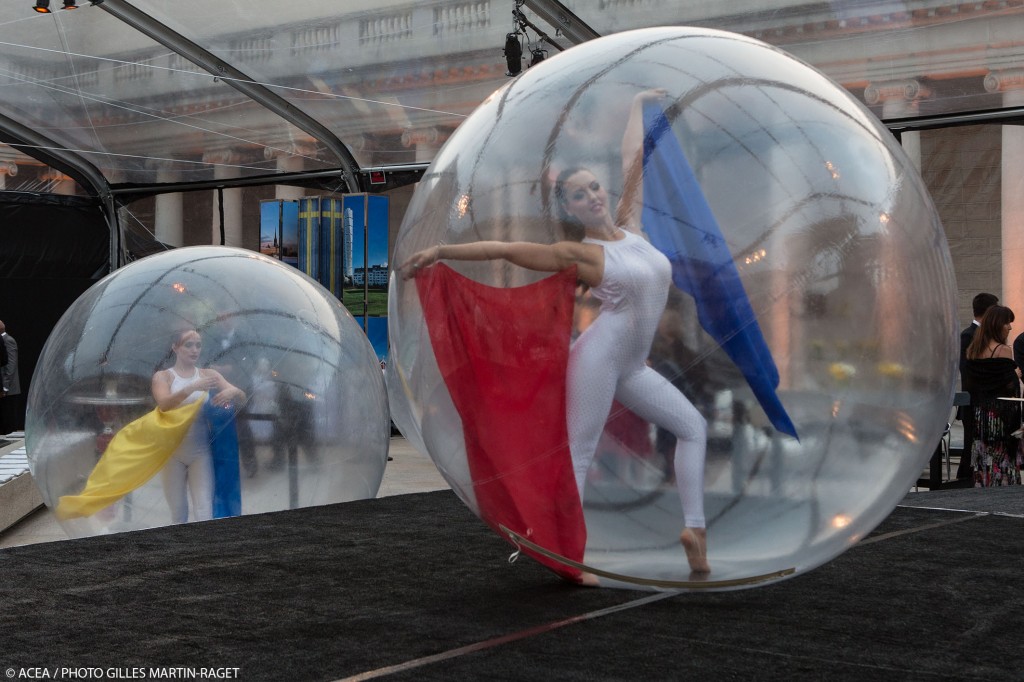 THE SECOND RACE, AKA RACE FOUR
Scheduled races Tuesday and Thursday between Luna Rossa-Artemis and New Zealand-Artemis, respectively, are unlikely to hold great drama, considering that Artemis has not yet launched its second boat, and one boat (at most) will be show up in the Alcatraz Channel on Tuesday. On Thursday, perhaps, Luna Rossa will show, depending.
Come Sunday, July 13, we have the prospect of an actual race day, with Oracle's two boats having access to the course (no obligation to show, I suppose) before and after the 12:15 start scheduled between Emirates Team New Zealand and Luna Rossa. That is, if by that time we're beyond the Silly Season and we have a positive answer to the innocent question,
Is anything alright?
In the Round Robins, each race is listed as sailing Course 2 of the Sailing Instructions.
Start
Reach Mark (to port)
Leeward Gate
Windward Gate
Leeward Gate
Windward Gate
Leeward Mark (to starboard)
Finish at Pier 27
ALOHA, TRANSPAC
What a difference 77 years can make. In the mid-1930s, the Yawl Dorade was the hottest thing afloat, winner of pretty much everything she touched on both sides of the Atlantic and the launch point for the career of Olin Stephens. When silver-mining heir James Flood traveled from San Francisco to New York to commission a Dorade-type entry for the 1936 Transpac Race, Stephens told him there was not enough time for a design and build program—but he could buy Dorade.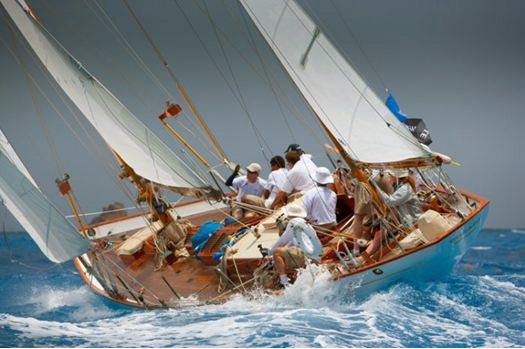 With the great Myron Spaulding as sailing master, Dorade that year would become the first boat ever to sweep the Los Angeles-Honolulu race.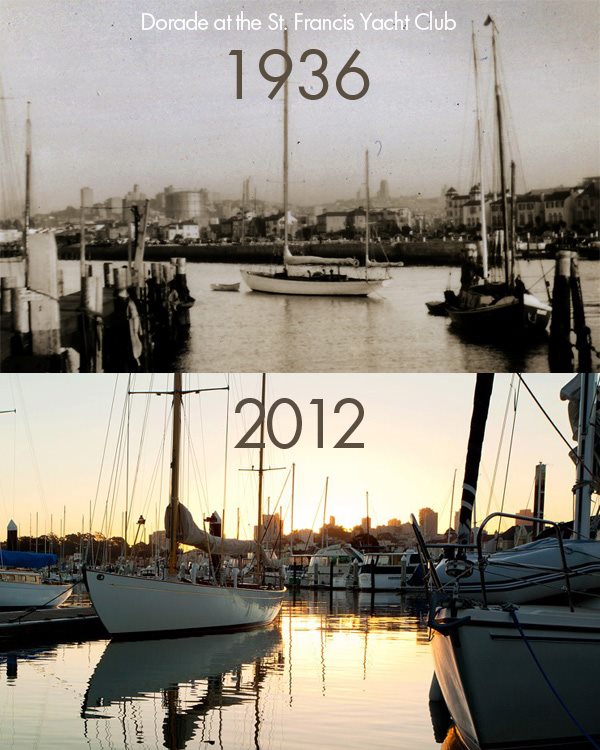 Many owners later, and following the most deep-down of many restorations, Dorade is again home-ported in San Francisco, with Matt Brooks, whose intent is to sail her in all the classic races she sailed in her youth. With a little tongue in cheek, Matt turned himself out in Full Yacht attire for a recent boatride in a different classic . . .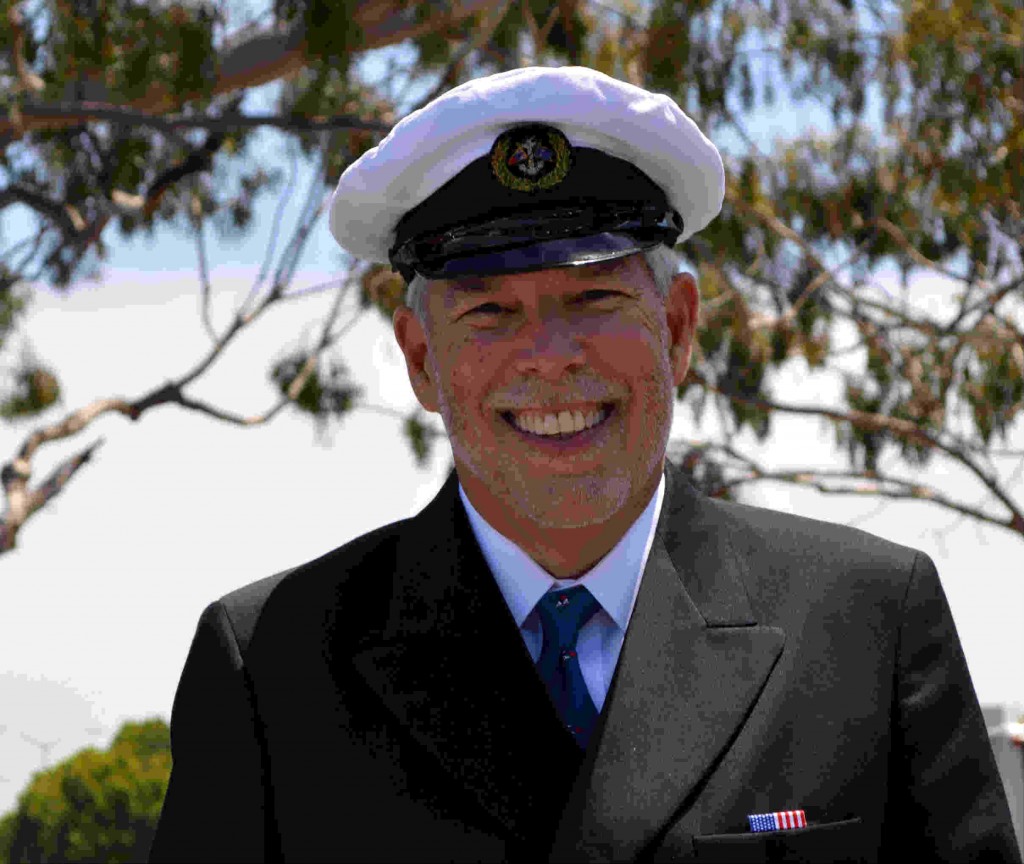 Dorade started on Monday among 15 boats in the first wave of starters in the 47th edition of Transpac. Divisions 7 and 8 include one entry from Thailand and three (of six total) from Japan. For tracking (with a six-hour delay) click Transpac tracking.
Early on Tuesday, their first morning at sea, the veteran classic Westward was about 14 miles south of Dorade, almost (by a mile or less) the most southerly of Monday starters.
Have a nice boatride, everybody—Kimball

.
.