It Clicked
Mau Mauing the Defender is one of the great traditions of America's Cup competition. The Kiwi team and the Kiwi press have left no dirt unturned as we approach the 34th match. Meanwhile . . .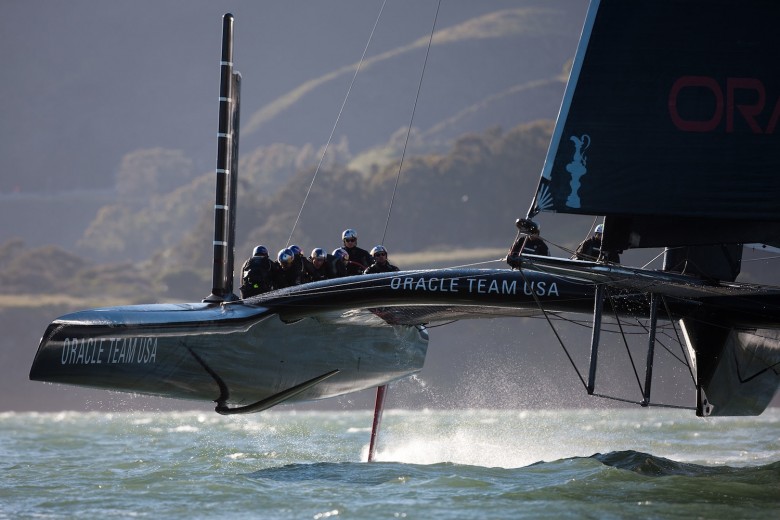 © Oracle Team USA/Guilain Grenier

It would seem that Oracle Team USA has brought some grief upon itself, but I remain incredulous and confused and, frankly, clueless regarding the whole kingpostgate mess and no less so regarding the jury ruling that ensued, and until the next shoe drops—it's out there, up there, somewhere—I've moved on.
The skippers' press conference on Thursday, anticipating racing on Saturday, was an interesting case in interesting times. I got the feeling that, whatever really went on in the past, what's going on now is, the defending team has taken a hit, picked itself up, tightened up in ways that perhaps they couldn't have otherwise, and Jessie James Spithill is ready to step out onto Main Street. Some of the words from Oracle's skipper were predictable, if not coached, but Jimmy was shooting from the hip when he said, "We've had our backs against the wall before, but something's clicked. I've never seen the guys this hungry.
"We can win the Cup.
"That's our plan."
Oops. I think somebody made them mad.
Coulda been our friend Grumpy. Coulda been ISAF moving in the shadows. Coulda been anything that came between them and the greatest fan base in sports that should have been theirs to share along with the Giants and Niners and is perhaps just waiting to emerge from the fog.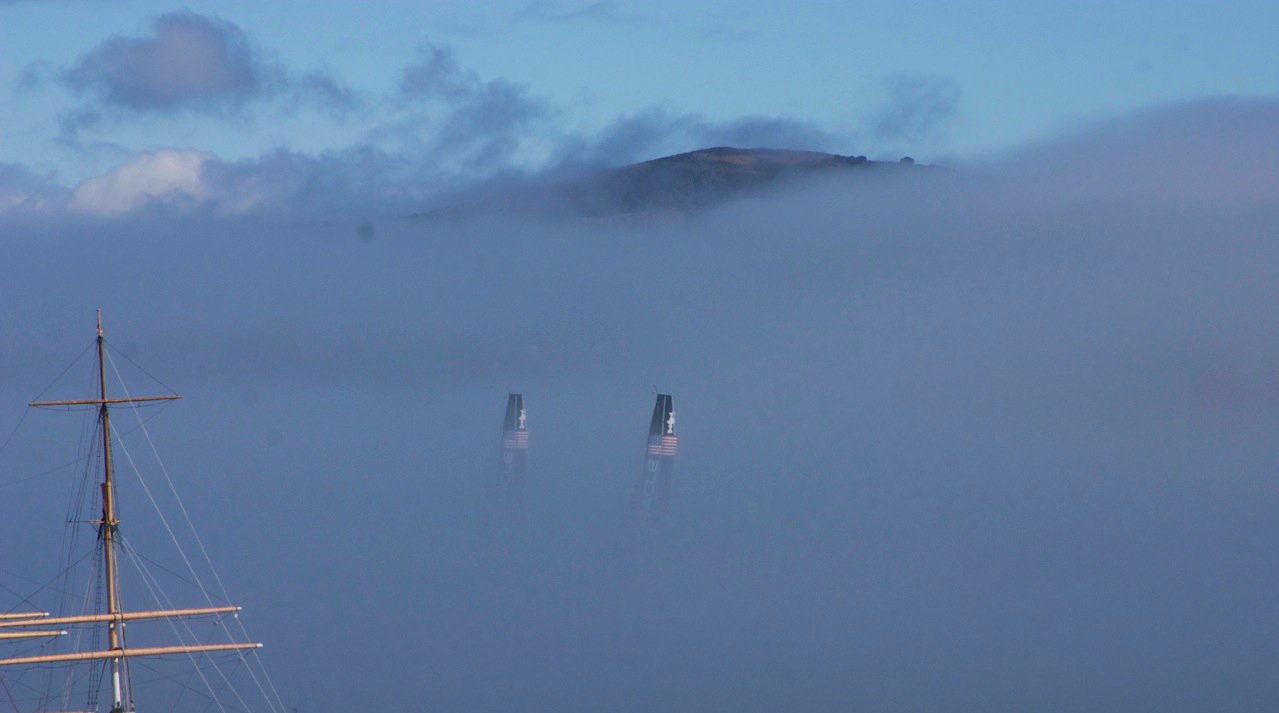 Photo © Dick Watts
You don't have to stop believing in this: Nobody knows what's going to happen on Saturday, Race One, the 34th match for America's Cup. The wing trimmer for Team New Zealand is an Aussie, Glenn Ashby, who allowed as how, "The development of both boats has come to the point of the spear. They've come at it from one [design] direction, and we've come at it from the other, and we don't know if we'll be faster, and I don't think they know."
Or as Oracle wing designer Tom Speer put it a few days ago, "The boats are close enough that we're just going to have to have some races."
The wing trimmer is a key player on each eleven-man crew and contributes much more than 1/11th to the outcome. He and the helmsman are "flying" the boat together, and they have to be as keen, coordinated and confident in each other as acrobats on a high wire. The presence of Team New Zealand's wing trimmer, and the absence of Oracle's former wing trimmer—Dirk de Ridder was booted from the regatta by the ruling of the International Jury—highlighted the hit on the Oracle team. Tactician John Kostecki was there instead, and the fact that de Ridder is JK's brother in law highlighted how personal that hit really was. Pushed on that point, Kostecki said, "The best thing we can do for Dirk is go out and win the America's Cup."
Thursday marked the 100th sailing day in an AC72 for Emirates Team New Zealand. "A milestone," skipper Dean Barker called it, and there's a man with pressure coming at him from all sides. It's common wisdom that if ETNZ can't take the Cup this time, the team as we know it is done for. The Kiwi government won't pony up another $30 million for seed money, and public passions will cool. Barker was handed his role in 2000 by Russell Coutts, who was winning his defense for New Zealand in straight races and invited Barker to steer the final race. Barker was at the helm in 2003 for the meltdown and national embarrassment that lost the Cup to Coutts and Alinghi, and he was at the helm again in 2007 for a credible and creditable effort against Alinghi, albeit an effort that simply was not going to win. He's been bloodied. He's felt all eyes upon him before. But not quite like this.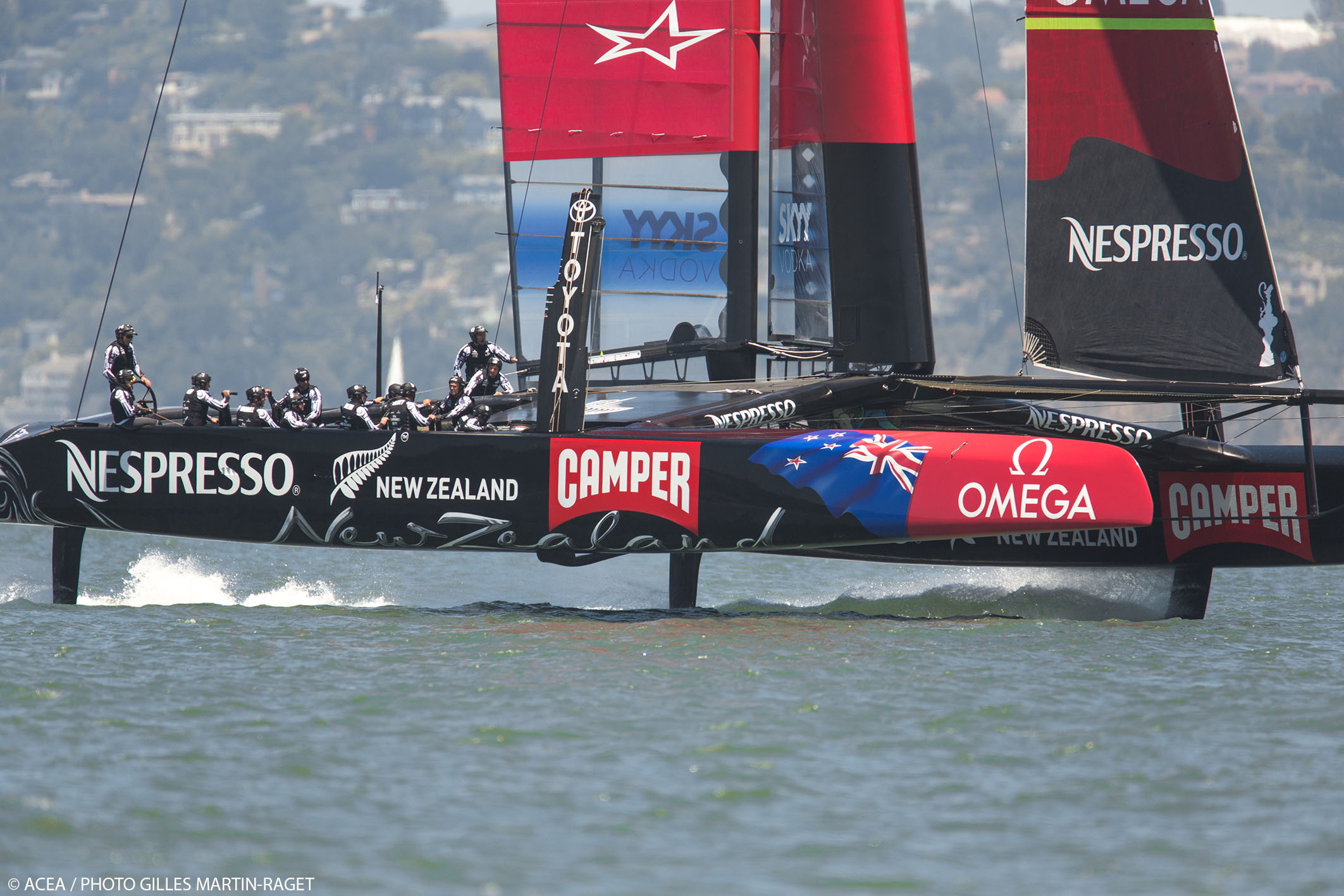 © ACEA/Gilles Martin-Raget
And can we please stop wringing our hands over the boats?
We won't see these boats again, but don't for one minute think that the future will look like the past. This was the past, US49 and US61 going at in practice ahead of Tom Blackaller's foray to Australia . . .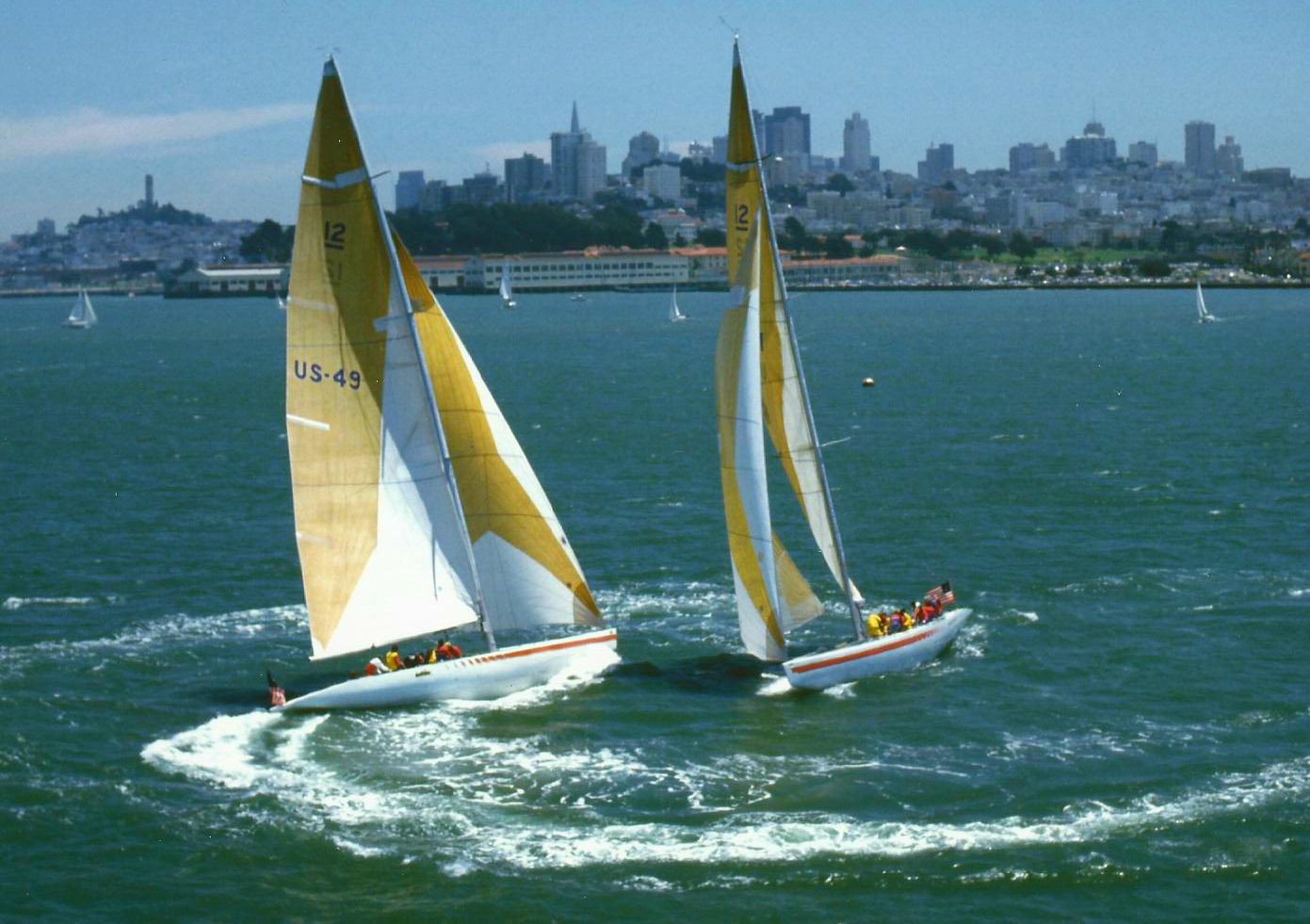 Our Dean Barker, the one-time car racer who now gets his kicks on the water, declared his take on the boats of 2013: "Foiling is one of the coolest advancements in going to multihulls. Foils are the future." His wing trimmer, Ashby, said, "We've got the world's two most technologically advanced sailing machines coming at each other on one starting line. If that's not cool, what is?"
In recent weeks, both boats have started foiling upwind, part of the time. They're still on a development slope, but time is running out. "I think we're just scratching the surface," Spithill said. "If we had another six months, I wouldn't be surprised to see fifty knots."
SPITHILL VS BARKER
In the Louis Vuitton finals of 2007 it was Spithill at the helm of Luna Rossa versus Barker at the helm of Team New Zealand. Barker got the best of that.
Here, as challenger, Barker got to choose his entry for Race One. "Port."
As defender, Spithill got to choose his entry for Race Two. "Port."
How 'bout dat?
And hey, we're looking toward a heat wave. We could have wind in the teens in the Golden Gate wind slot (mild by community standards) and TWO races completed. It could happen. Start times 1:15 and 2:15.
Oracle, fined two races by the jury, has to win eleven races. New Zealand has to win nine.
Your grandchildren will read about it. We get to see it.
MEANWHILE, OH DAMN
I like to look at boats. I even like to look at models of boats, and I cannot ignore the untimely passing of the great model maker, Ken Gardiner. His work set a standard, and he's left a legacy that embraces both Californias. Almost daily, I walk hallways where I see his hand. Thank you, Kenny.
Damn.
.
.