Limits for Limits?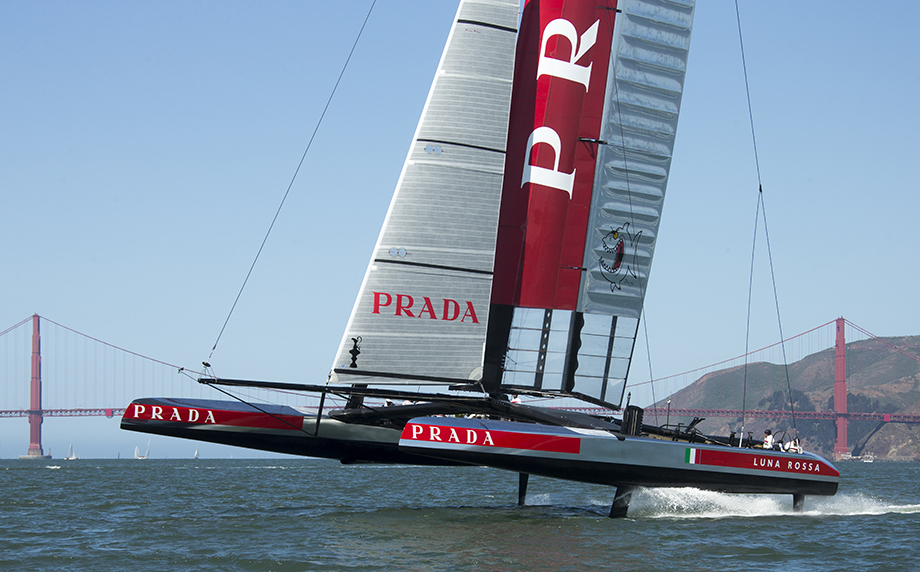 Luna Rossa in 12 knots of true wind. Photo by Luna Rossa/Carlo Borlenghi
Alongside the still-sore tragedy of the loss of Andrew Simpson in the Artemis crash, Prada boss Patricio Bertelli has stirred his own drama by going public with a demand for lower wind limits, and by sending Luna Rossa out sailing rather than wait out the one-week grace period requested by the newly-appointed safety review committee. Lower wind limits would be an inevitable conversation regarding over-horsed boats, but Bertelli in his press conference on Saturday also injected the new notion of wind limits during racing of "a couple of knots" higher than the numbers for starting. Hitting those numbers during a race would trigger automatic abandonment.
Would we ever complete a race?
The San Francisco Bay seabreeze builds through the day. Luna Rossa skipper Max Serena and his team know this. Why else would they have been out there at 1000, on the West Bay waters where the racecourse will be laid, and gone by 1100 on their first day of toe-in-the-water testing?
Seabreeze at 1000 Saturday, 12 knots from the west. Seabreeze at 1500, 19 knots from the west, and the locals who were sailing their own races remember it as a warm, mild, golden day on San Francisco Bay. Not the bear, much less the big bear.
Presently the wind limits for starting a race are 25 knots for the Louis Vuitton Round Robin and Semi-Finals, 28 knots for the LV Finals, and 33 knots for the America's Cup match. Bertelli proposed lowering the starting limits to 20 knots throughout the challenger eliminations for the Louis Vuitton Cup, and 25 knots for the match. Offhand, that doesn't sound problematic, but automatically pulling the plug at an additional "couple of knots" sounds highly problematic.
Meanwhile, one surface ripple of deeper currents flashed in Bertelli's comment, "We will not tolerate a bending of the rules using the fatality as an excuse."
Other writers have undertaken to tell of Andrew "Bart" Simpson, his young family, and his friend from childhood, Artemis sailing team director Iain Percy, partners in winning two Olympic medals. I can't add to what has already been well said, but I can say a word for at least some of the sailors of San Francisco Bay who greeted the arrival of the America's Cup with so much joy and hope and who haven't let go of the hope even in the midst of mourning. Mourning for Simpson; mourning for the ideal America's Cup that now cannot be. For three years I have experienced the enthusiasm of the Bay Area for the Cup. Sailing audiences, general audiences, no matter, peaking in the crowd-pleasing AC45 races of August (especially) and October that converted many old-school thinkers to the new order. Converts who are wavering now. Nonetheless, for most, hope and enthusiasm have survived among compounding disappointments. Volunteers are still volunteering. And now this. In the space of 24 hours, Friday night to Saturday night, I witnessed two full-house turnouts. The Saturday-night screening at the Sausalito Film Festival of The America's Cup: 150 Years in the Making was dedicated to the memory of Andrew Simpson and attended by a range of people, from a few who just wanted to know "something" to wooden boat enthusiast Alan Olson of the educational nonprofit, Call of the Sea, who wouldn't let a thread of carbon fiber anywhere near the tall ship that he's beginning to build. But all of these people care. All of them want to welcome the world to this wonderful patch of water. All of them want to see a good competition. All of them, hope.
A week or so ago, when we were reading "might be cancelled" stories, people needed assurance that it wasn't so. Now there are questions about whether individual challengers will drop out, and—
The Italians might make threats, but they didn't come to leave. The Kiwis have been quiet (since coming to town) but they are in the mindset of warriors in a hostile country, outgunned but spoiling for a fight. If you don't already know that the Kiwi-Kiwis don't like the "American" Kiwis, you're missing essential backstory. That leaves Artemis, Challenger of Record, the question mark.
Artemis CEO Paul Cayard once partnered with now-Oracle Racing CEO Russell Coutts to attempt to launch an international circuit in large cats, along the lines of the ORMA 60 trimarans that were then racing, and occasionally cartwheeling, around Europe. It's worth noting that the then-presence of the ORMA 60 circuit was part of the reasoning to go a step bigger than 60 feet to create a catamaran class for the America's Cup. We've said before that the 34th America's Cup is the biggest gamble ever undertaken in any sport, not just by fielding boats that reach near-freeway speeds but by attempting to revolutionize every aspect of the event. Cup historian John Rousmaniere is no fan. Talking to NPR's Richard Gonzales on All Things Considered, Rousmaniere called the AC72s "Indy cars without brakes."
Well, choices were made early on that have taken us to the edge or beyond. The boats did not need to be this powerful to make their point. Ellison and Coutts both have been saying so for months, but the AC72s can be sailed and surely will be sailed. Post-2013, we won't see them again in this form, if at all. Safety matters are one thing, but there's also the fact that, because of those powerful and (to me) fascinating wings, it takes a small army and a lot of time to launch or retrieve an AC34. They're each a marvel, but at this scale the wing is a hassle.
How well will catamarans prove out as match-race vehicles? I've heard predictions here and predictions there. Call me in October.
In the run-up to 2013, Emirates Team New Zealand boss Grant Dalton has criticized Cayard and Coutts for having a chummy (my word) rather than adversarial relationship—challenger versus defender—and the description is true enough. Were Artemis to stand aside, the Kiwi team, next in line, would become the Challenger of Record, and challenger-defender negotiations would become darker and much more complex. About a month ago, as the Kiwi team was packing up to ship out of Auckland, Dalton told me, "The America's Cup is a very nasty place right now."
And that was then, and this is the new now.
OTHER BIG GUYS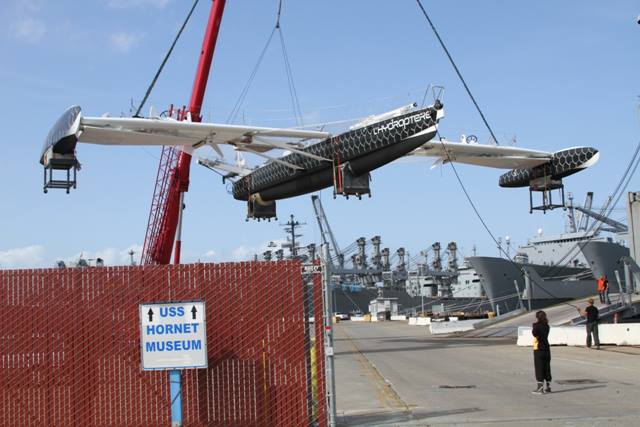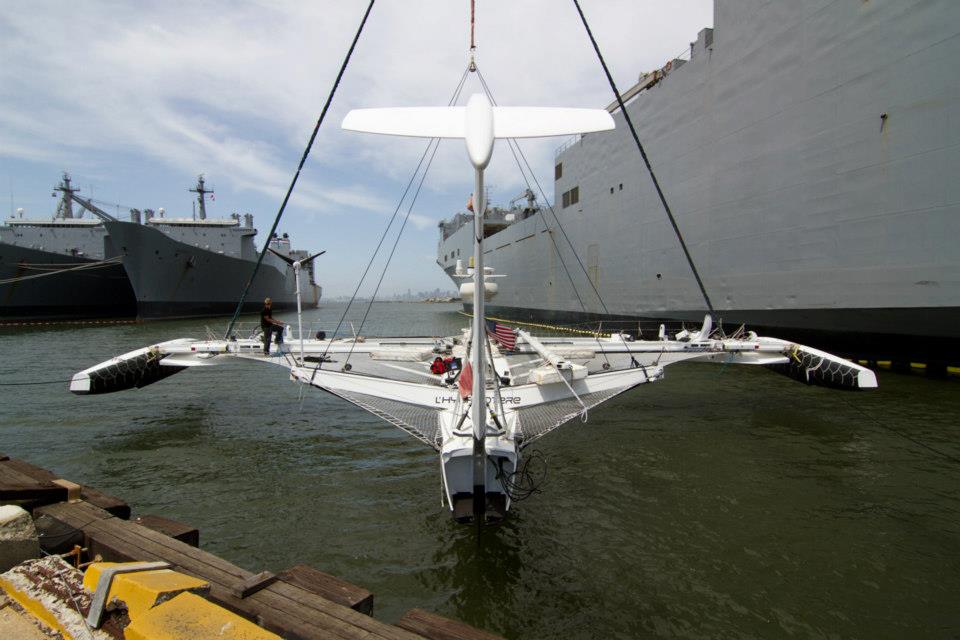 Still the fastest go-places boat in the world, though the 500-meter and nautical mile records now belong to hyper-specialized Vestas Sailrocket (65.45 knots and 55.32 knots) Alain Thébault's trifoiling l'Hydroptere has spent more than half a year on San Francisco Bay/ The French record hunter is now preparing to sail south for an attempt on the Transpac course. Not to sail the Transpacific Yacht Race, mind you, but to take a start and finish from the Transpac Yacht Club from the familiar start to the familiar finish, Point Fermin to Diamond Head, whenever the weather lines up. This was the look in the summer of 2012 . . .

Photo KL
Also soon to launch in Alameda is John Sangmeister's Tritium Racing, the ORMA 60 that Artemis Racing used for trialing its first wing, the one that broke in early testing in Spain. It is possible that the two boats will sail south together, and however that goes, it is likely they will tie up together at the pier in Rainbow Harbor in front of Gladstone's Long Beach. Sangmeister, a veteran of Dennis Conner's Cup-winning crew in Australia, is a restaurateur, a business pioneer (Rainbow Harbor once was a blighted neighborhood) and multihull enthusiast. He does plan to race Transpac in July. This is the boat sailing in a previous incarnation—