New York-Cape Horn-San Francisco
It could happen anywhere, any time. The Consul General reads a letter of congratulations to a country's celebrated new heroes, and the letter comes from higher up, from the Ambassador in the Capital, and it sounds like diplomat-speak, but it sounds good.
Let it be recorded that in San Francisco, California on the 16th day of February, in the year 2013, Italy's Consul General, Mauro Battocchi, read a letter of congratulations from his Excellency Claudio Bisogniero to the crew of the raceboat, Maserati, as the new holders of the record on the Clipper Ship route, 47 days around Cape Horn from New York to San Francisco.
And he read the message from his phone.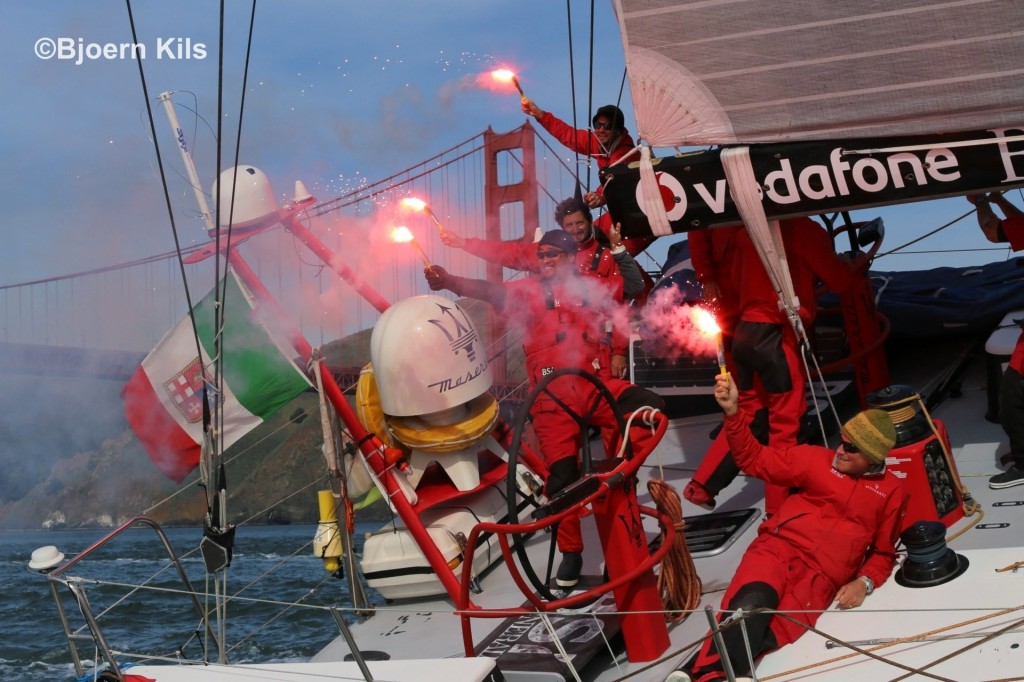 Photo by Bjoern Kils
With his crew of eight, the 47-day passage over 13,225 official miles, 14,000+ through the water, was the completion of a dream for Giovanni Soldini, who had already earned his spurs in 'round the world competition . In the Gold Rush days, the two 89-day voyages of the Clipper Ship Flying Cloud were epic, "And when I was young," Soldini said, "I followed the first attempts to break the record in modern boats. During this voyage we read the story of Flying Cloud, and we lived the story of the Flying Cloud. The navigator, Eleanor Creesy, was very smart. She made perfect decisions without satellite information."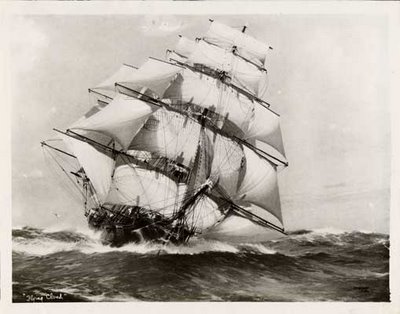 During Soldini's younger days, there was that February in 1989 when no less than four boats were at sea at one time, with another to follow, in attempts at the Cape Horn record. All previous attempts had come a cropper.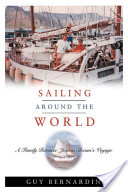 I've lost track of how many times Guy Bernadin, a successful circumnavigator, tried and failed going solo, New York to San Francisco. In 1989 he was forced into port repeatedly for repairs. A year earlier his 60-footer du jour had fallen off a wave, broken its mast and eventually sunk. Much, much later Bernadin sailed his new wife and child around the world on a replica of Joshua Slocum's Spray and wrote a book:
It's fair to say that Flying Cloud will hold the Clipper Ship record forever, and it took 135 years for modern race boats to make a faster passage over the same route. 1989 was the year that an early-generation Open 60 finally broke through. Hunter Marine boatbuilder Warren Luhrs, with Lars Bergstrom and Courtney Hazelton, sailed his super-light-for-the-time Thursday's Child through the Gate in 80 days to shave nine days off the Flying Cloud's time, and he left us with the signature line: "Wouldn't do anything different; wouldn't do it again." The time included five days in the Falklands repairing hull damage after hitting "something." They sailed through the Golden Gate, to a big welcome, under a bright winter sun. The same weather in 2008 greeted Lionel Lemenchois and crew with the trimaran Gitana 13, still the multihull and overall record holder at 43 days. And bright winter sun greeted Maserati, though the crew might have preferred 30 knots on the nose and rain if that meant keeping a better pace rather than stalling, nearly becalmed, near the end of a long haul. Bowman Corrado Rossignoli had no fond memories of "sitting out last night, looking at the lights of San Francisco."
Slowing down at the end is a torture, but getting there is good.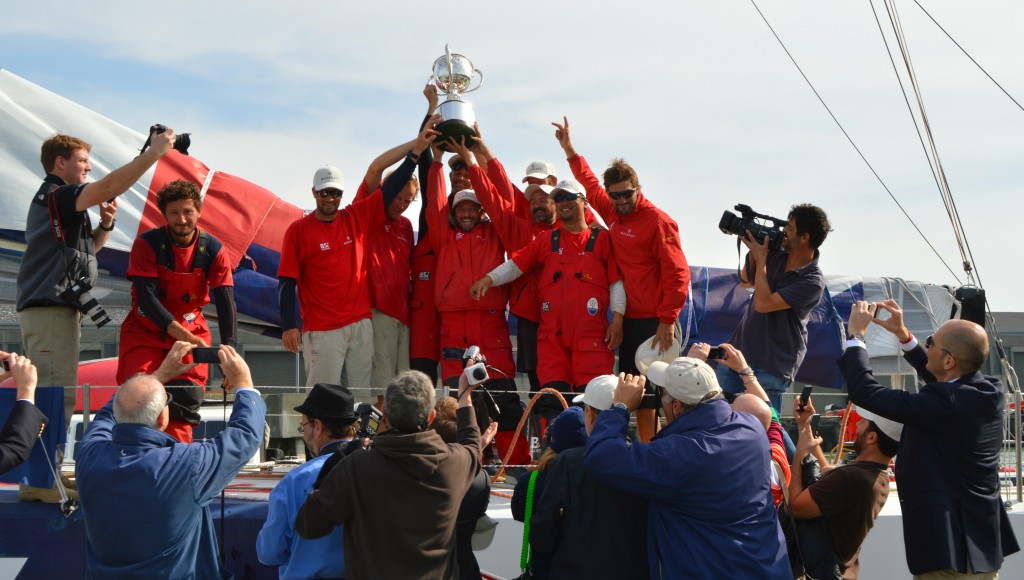 Photo by Kimball Livingston
FINISH LINES
Since no one really knows where the Flying Cloud ended her voyage in San Francisco, the modern finish line is arbitrary. While few record attempts are being made and increments are in days (official records are down to the second; I figure I can ignore the fine points when Maserati just knocked 10 days off the previous record) it's not a big matter if the finish line shifts around, as it does for one of the two records in play.
Not for the World Sailing Speed Record Council, which records a finish at the Golden Gate Bridge, solid and simple. The recorder was no less than Sally Honey.
Then there is the Clipper Challenge Cup, established by the Manhattan Yacht Club on the inspiration of having hosted Guy Bernadin at their docks, back in the day. The trophy was first awarded in 1989 to Thursday's Child. I have this:


February 13, 1989|DAN BYRNE | Special to The Times
SAN FRANCISCO — Warren Luhrs brought his 60-foot sloop, Thursday's Child, under the Golden Gate Bridge and into history Sunday.
A cannon fired from the St. Francis Yacht Club to mark the end of an 80-day 20-hour voyage from New York around Cape Horn.
Isabelle Autessier (once rescued from an overturned boat, in the Southern Ocean, on a race around the world, by Soldini) claimed her piece of the record with a 62-day passage in 1994, and I'm pretty sure she finished off the Hyde Street Pier.
Gitana 13 used a line between Alcatraz Light and Coit Tower.
Maserati finished on a line between Alcatraz Light and a mark at the end of Pier 39. Against the unlikely but imaginable day when somebody misses or wins by seconds (Merlin once missed breaking her own Transpac record by 47 seconds) the finish line really needs to be standardized.
And for the sake of clarity, if you run an internet search on Manhattan Yacht Club, you call up Manhattan Sailing club, which operates a fleet of 38 club-owned J/24s and also includes privately-owned boats. It's more of a business than a "yacht club" as usually understood, and I don't have a problem with that, though they do seem comfortable with keeping things fuzzy.
1989 AGAIN
Mere months after Thursday's Child made the breakthrough, a son of Latvian refugees and a "middle-aged cruising sailor" as he called himself, the under-funded Georgs Kolesnikovs arrived with crewman Steve Pettengill to demonstrate the potential of a multihull on the same course. They were sailing the 60-foot trimaran, Great American and they lowered the record to 76 days. It was quite an achievement, but one that occasioned far less excitement than the arrival of Thursday's Child.
1851, 1854
Eleanor Creesy, wife of the captain, was the Flying Cloud's navigator. She had learned on her father's coastal trading schooner out of Marblehead, inspired by a passion for mathematics. She studied and observed ocean currents, weather and astronomy. She also was an early student of Mathew Fontaine Maury of the US Navy. Maury's Wind and Current Charts and Sailing Directions were ahead of their time.
Maury headed what became the US Naval Observatory around 1840 and discovered the wealth of old log books deposited there, recording currents and weather conditions around the world from merchant ships, whalers and the Navy. He set to work extracting useful, predictive data while developing a system to collect meteorological data from ships of the day. The consolidated results produced suggested sailing directions organized by season and region. Almost certainly, Maury's work was responsible for dropping the average New York-San Francisco passage from 180 days to 135—still far off Flying Cloud's two passages of 89 days. In 1851, it was a time of 89 days, 21 hours. In 1854, 89 days 9 hours.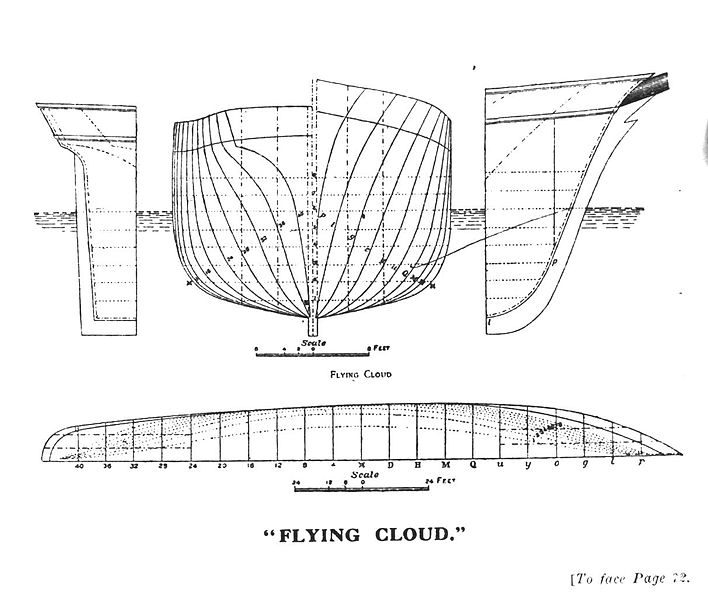 Now that is one extreme Clipper. Flying Cloud was grounded and lost, not by the Creesys, on Beacon Island Bar, Saint John, New Brunswick, in 1874. In her time, San Francisco 1.0 was being built from the sea. Such a pity we have not one Clipper Ship in San Francisco, save whatever lies buried under the Embarcadero and the filled land that runs all the way to Montgomery Street.

For the record: Maserati is the ex-Ericsson 3, with a keel lengthened by three feet and lightened by 1500 kilos, Soldini said, "and another 1,000 to 1,500 kilos taken out of the boat here and there." The official monohull record for the Clipper Challenge Cup now stands at 47 days, 42 minutes, 29 seconds. The WSSRC mark is yet to be ratified.
.
.