Proof of Concept (!)
I remind you, TORTURE has been a San Francisco tradition since the baseball season of 2010. And there's nothing like winning four races in a row to get the home town juices flowing. People running. American flags flying.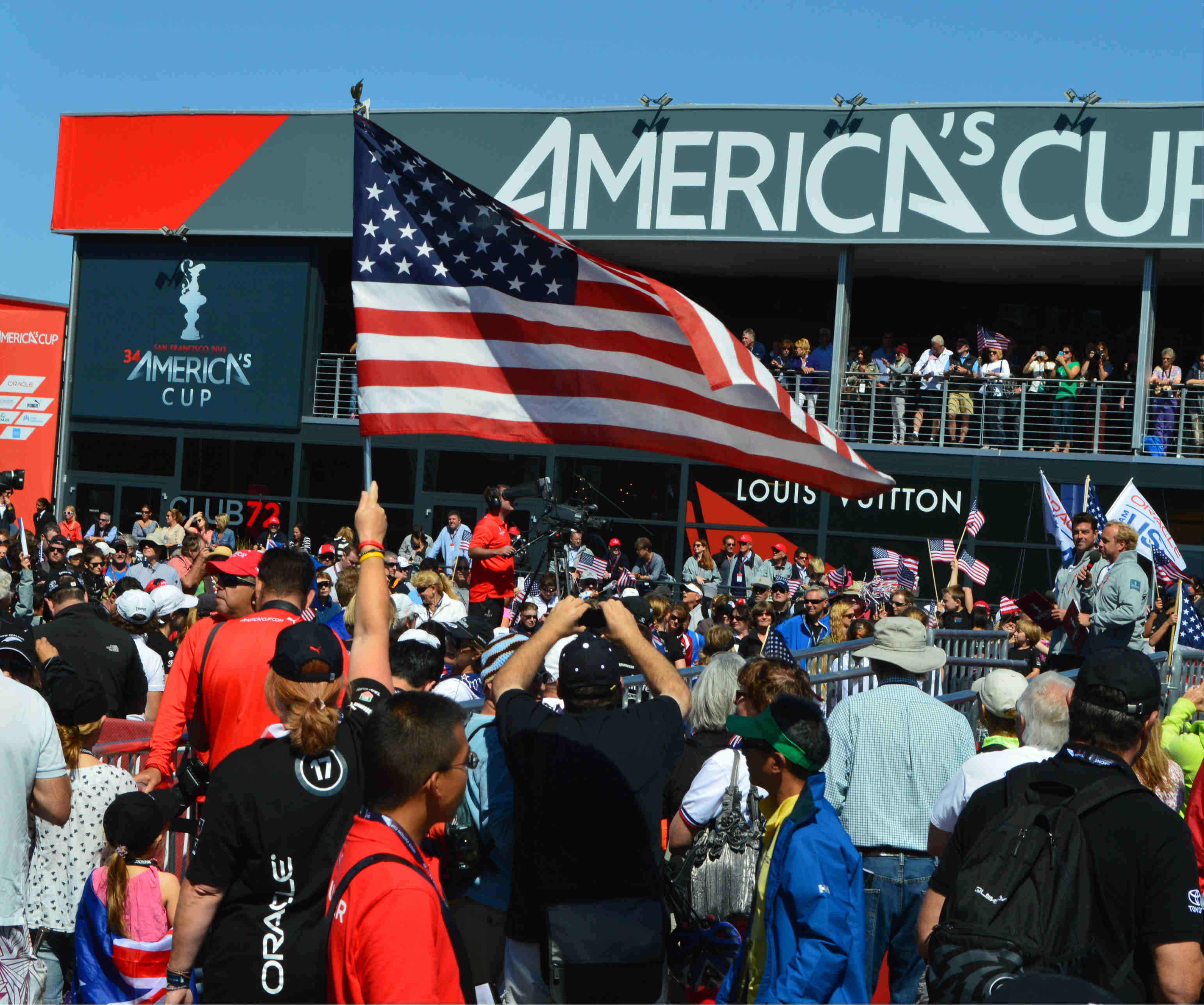 The cityfront on Sunday was packed, almost the way I imagined when the Cup was announced for San Francisco, and it's about time we got to see Norbert Bajurin dancing for joy, again.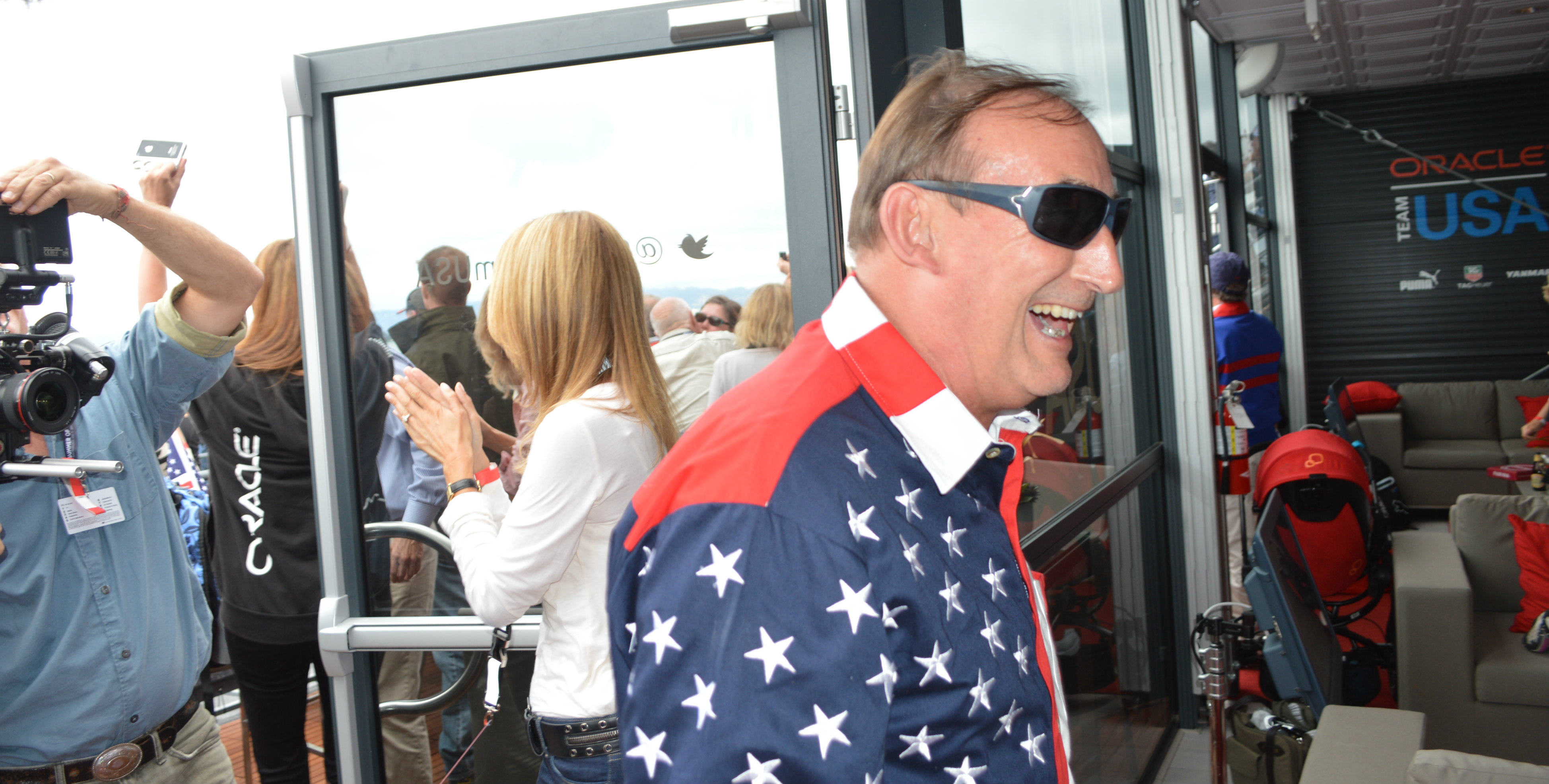 Two years ago, it was an article of faith that we could match race 72-foot catamarans. Now it's a fact and it's happening on foils, and the spray is flying on the racecourse and even as a spectator it makes my heart race and that's not all there is. Jimmy Spithill has it that, "The only thing slowing these boats now is cavitation. That's like hitting a governor on a motor. Otherwise, we'd be seeing speeds in the fifties."
Close crosses. Passes. Larry Ellison has been a risk taker at every stage of his career, and his multiple leaps from AC32 to AC34—an electronically defined and monitored race course, wing powered cats, raw speed—have finally clicked. Proof of concept, and maybe it would have been better to have held off until 2014, and gone up against the World Cup for eyeballs but with fully-developed boats (Emirates Team New Zealand wing trimmer Glenn Ashby says the learning curve is still "nearly vertical") but who knew that, going in?

ETNZ, foiling upwind, seems to spear a boat named "Musashi" after the great samurai, author and philosopher. However this image was recorded when ETNZ was winning races. Then versus now. Photo © Jan Pehrson
Remember when the Kiwis were talking about taking the racing back to monohulls? I don't see that happening, even if they win this thing, with Kiwi skipper Dean Barker declaring, "Foils are the future." Oracle skipper Jimmy Spithill says, "I'm just glad we were listening to the kids. It's about fun, and it's about fast."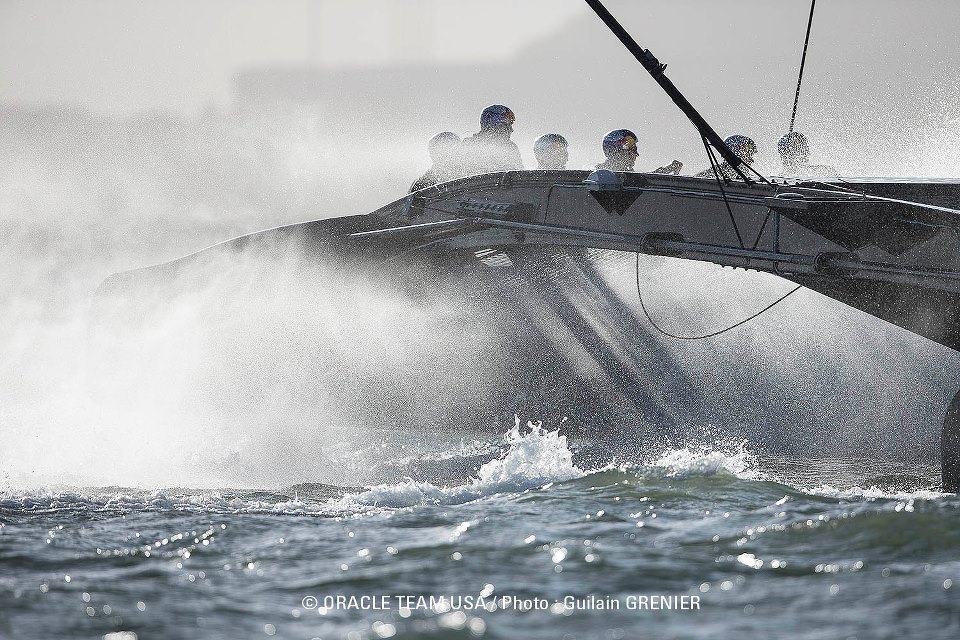 © Oracle Team USA/Guilain Grenier
One of the great Aussie journos, Rob Mundle, posts on my Facebook: " It's time for the kiwis to bolt the wheels back on … but I, and thousands of others here in Australia, won't care if it goes down to the very last race. Thanks to Larry E and his visionaries, AC 34 is the greatest image changer, and interest grabbing moment, our sport has ever seen. The public interest in a match that doesn't involve Oz is unprecedented. Now we just have to organize an Australian challenge for the next match … wherever that might be!"
The exclamation mark is his.
IT'S NOT OVER TILL
Along with their other troubles—Team New Zealand has lost four races straight; Dean Barker now holds the all time record for the most AC races lost as skipper—the Kiwis are losing elements of their lodging and are scrambling to find new digs for some of their people.
And they're not alone.
With 30,000 of Larry's best friends coming to Oracle Week, the hotels are chock-a-block, and foreign journalists too are being displaced. They never expected to be here this long, so they didn't reserve. In the media center today, I was approached, tongue in cheek, to see if my little house near Baker Beach perhaps has room for about 25 people . . .
.