Sixty-one Knots (!)
After years of disappointments, after years of rethinking and redesigning, Briton Paul Larsen closes on the payoff . . .


AND AT THE LUDERITZ SPEED CHALLENGE on Tuesday, the windsurfing light was on. Sophie Routaboul checks in . . .
After the promising previous days, everyone felt that the 50 knots barrier break cannot be far. It's today, on the 4th race day, that this never-before-broken barrier was smashed! As records kept tumbling almost with every run this afternoon, some of the speeds still need to be confirmed by the Time Keeper.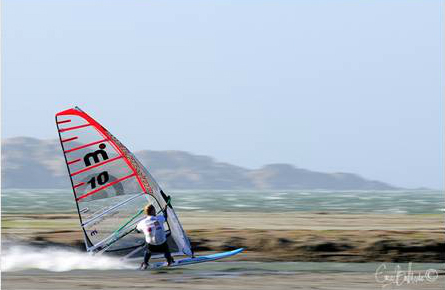 First, the Swedish Record Holder Anders Bringdal broke the 50 knots barrier twice, with 50.41 and then 50.46 knots improving the world Record on Production Board as well.
After that Antoine Albeau surpassed Anders' performance with 50.62 knots recovering his position of World Record holder in Windsurfing, which was also shortly held by Cédric Bordes in the afternoon with 49.66 knots.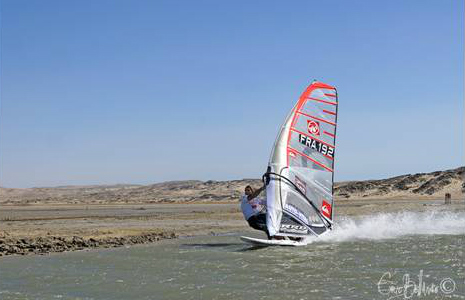 Zara Davis has also improved her World Record in Windsurfing with 44.92 knots and also Lena improved her Turkish Record with 43.81.
The record on Tandem has been also broken (1 board / 2 sails / 2 riders) with 38.12 knots.
And lots of other National Records were smashed. Mark Grinnell from South Africa and Matthias Röttcher from Namibia were successively improving their national records which they had already broken earlier during the day. Mark: 46.49 kts and Matthias: 46.69 kts.
Jurjen Van Der Noord, the Dutch competitor who has just made his first runs today broke the Dutch Record with 47.53 kts.
Patrick Diethelm has improved his Swiss Record and is the 3rd time in the Windsurfing world as well with 49.71 knots! Nick Vardalachos from Greece and the British Farrell O'Shea improved their record.
Nick: 48.84 kts and Farrell: 48.21 kts.
Christian Benzing who was battling with his German fellow countrymen, broke the German Record in Windsurfing with 45.57 knots.
This incredible day has now gone into the windsurfing history books.The world's windsurfing community was waiting for a "come back" in Speed Sailing. The goal of the 2012 "Lüderitz Speed Challenge" was to work on that point and offer the best conditions to finally break this mythical barrier. We can expect even better results during the coming days.