The Container
Come my children who love the sea, and all who sail upon her,
A tale I would tell of a wayward thing, a truly vexing bother,
Lost, not quite, nor forgot, not at all, for I speak of the one, The Container.
'Tis known she rests on a shipping dock. Good news? You could sight her,
But this dock, this day, was meant I must say for shipping some other
Danged container to some frikking place other than the frikking 5O5 Worlds.
Do you have any idea how hard it is to rhyme "Worlds?"
Below we see Paul Von Grey pondering problems that have no poetry to them at all.
[ Editor: : Ahem, surely you're not labeling that doggerel as poetry.]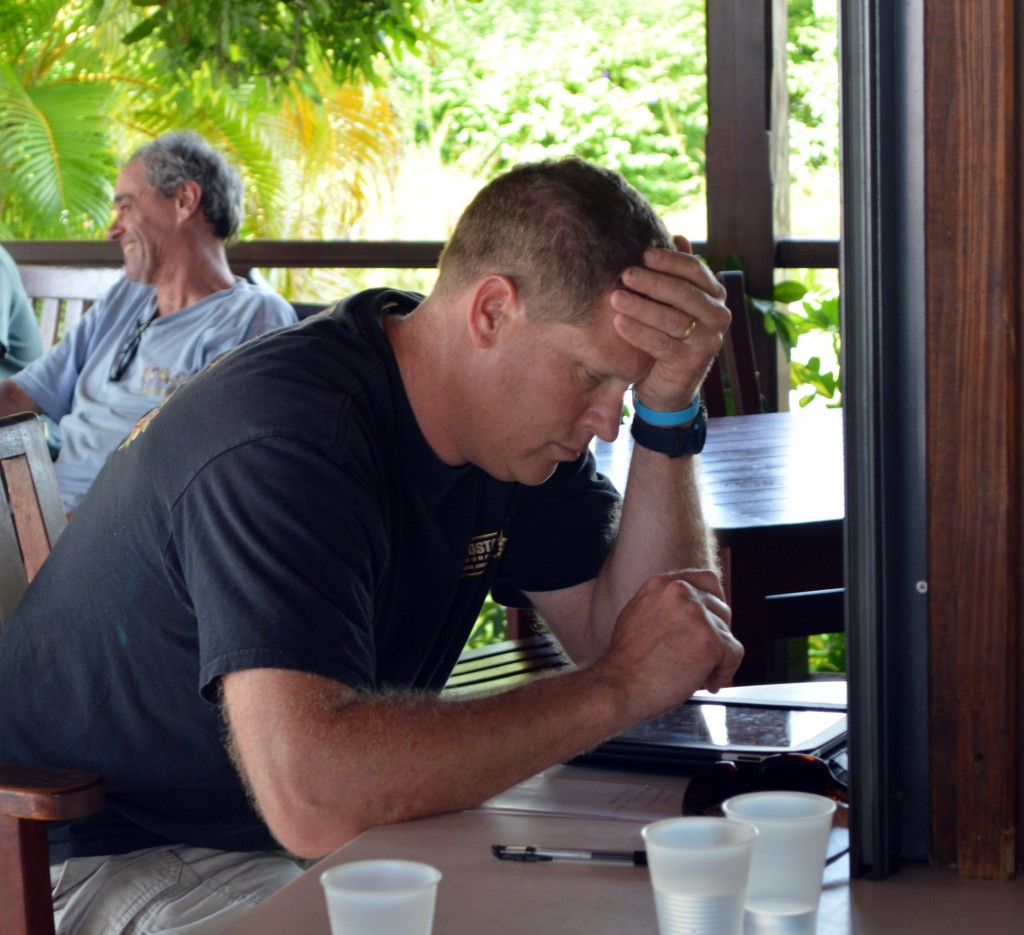 How people at 5O5 regattas are supposed to look (background) and—
Von Grey started last September, as a volunteer, organizing shipping from the West Coast. He recalls, "People asked why was I starting so early . . ."
The Container left the West Coast in early March. Plenty of time, if only it had kept on moving instead of being sidelined, first in Panama and then in Trinidad.
Loaded with six 5O5s from the West Coast, sails, masts and international juror Vicki Gilmour's rule book, The Container as of Friday late was sitting in Trinidad's Port of Spain while certain of the 76 entries in the 2013 SAP 5O5 Worlds in Barbados were asking each other questions such as Von Grey's, "What would it take to unseal The Container and get the boats through Customs in the nine minutes before Customs closes until Monday?"
With the MSC Challenger tied up dockside over the weekend for loading/unloading, the Vega Carina—scheduled to pick up and then deliver The Container to Barbados, oh, a week ago or so—lay at anchor in the harbor at Port of Spain, waiting for parking space. Maybe Monday? Tuesday?
Various schemes were considered.
Charter a vessel for a special delivery because, after all, what used to be "the missing container" is now simply The Container and has been identified sitting idly dockside. That mission priced out at about $50,000 in fuel costs, so maybe not.
Charter a plane. Um, same problem.
Send in James Bond.
Yep, the only practical solution.
Aussie Carter Jackson was proclaiming—without benefit of alcohol—that the whole fleet should refuse to race until the missing boats arrive. Noble talk, but it didn't launch a movement.
Late Friday, the hardworking Von Grey sent a note to tell us that, "We have exhausted all our affordable options. We are going to wait for the elusive Vega Carina. The reliability of the plane, crew, and logistics on the ground were beyond reasonable."
And yes, Barbados is lovely this time of year, and we've had some good racing. Germany's Stefan Boehm and Gerald Roos swept out of the shadows to win both races on Saturday, the opening day, leading at every mark except one. On Sunday in race three they were looking as if they might be out to do it again when a big black cloud came through, and suddenly the gasping gang on the right-hand side were off life support and ready to boogie. Aussies Sandy Higgins/Paul Marsh won race three, but that took some help from an unfortunate collision between American Parker Shinn (upwind) and German Olympian Tobias Schadewaldt (leading, downwind). Schadewaldt dropped to third and then hit the beach with some rigging work to do and some paperwork for the jury.
This pic by Christophe Favreau is here because it's just plain pretty . . .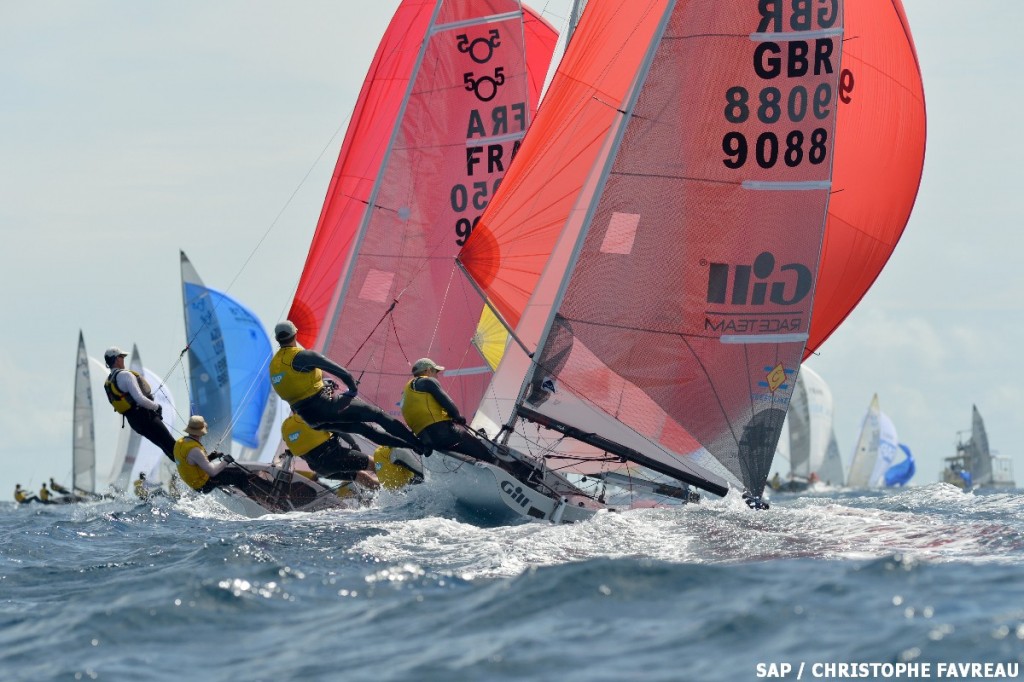 Come race four, it was all about another German pair, Claas Lehman and Leon Oehme, emerging from a long hiatus, five months without sailing, because, "It's f'ing cold in Germany".
Lehman, a cardiac surgeon, advises, "If your doctor is a sailor, never schedule your operation on a Friday, because he's in a hurry to go sailing. And never schedule on a Monday, because he's been sailing." See below for a picture of the hands of a surgeon—Kimball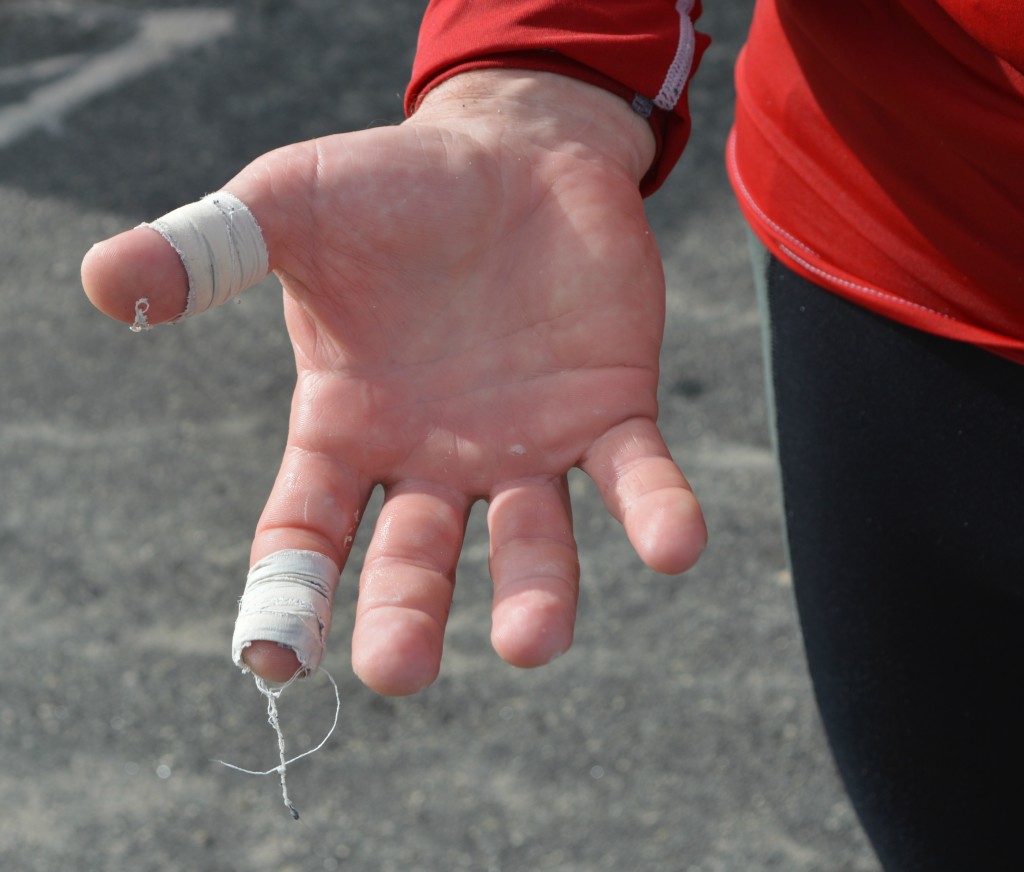 .