Trust, Don't Think
Where two weeks ago the big cats went foiling . . .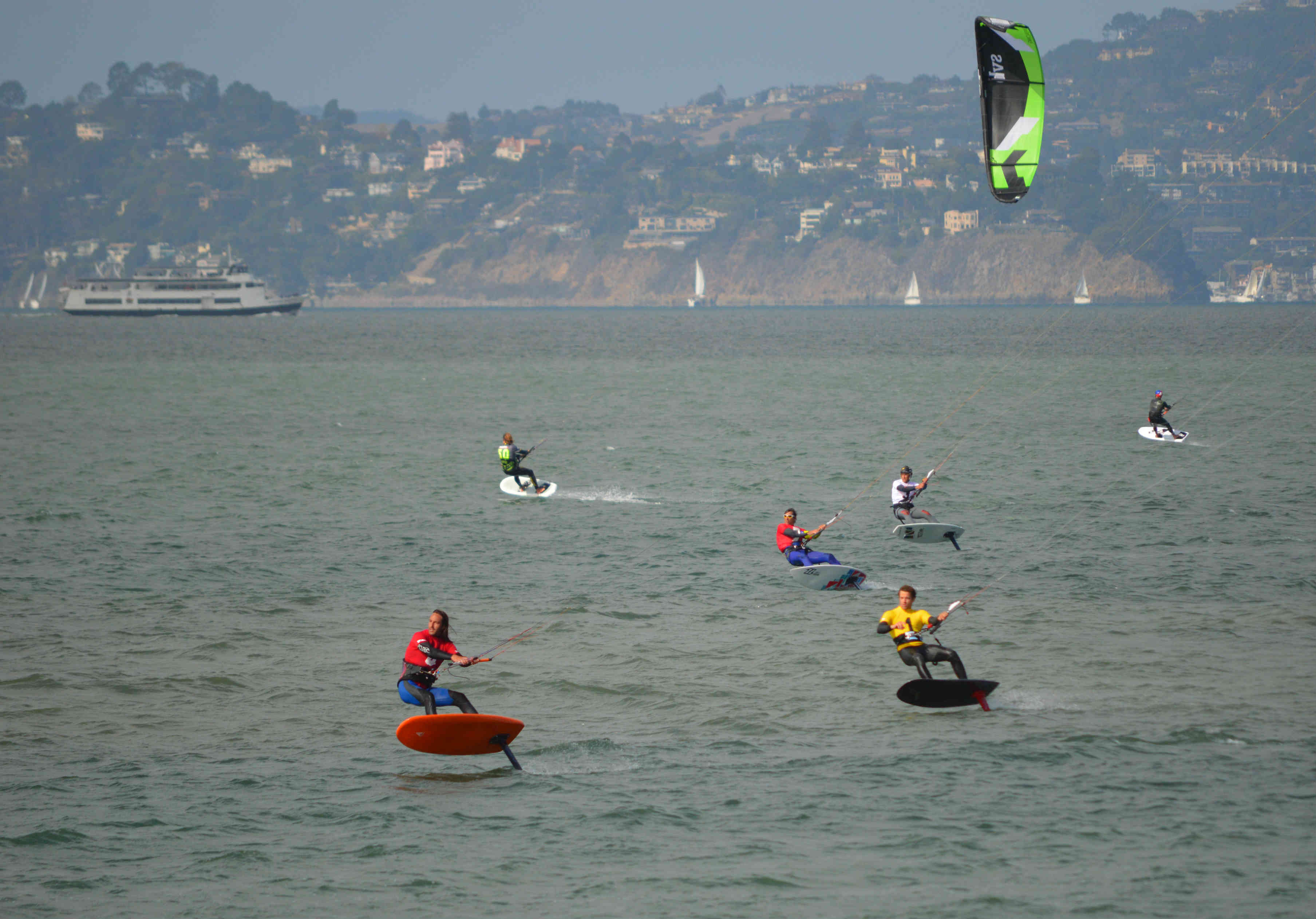 Photo © KL
Just when raceboards hit a design plateau and kite design settled down—for five minutes—along came foils that work on all points of sail. Speeds at the California Foilboard Championship on San Francisco Bay over the weekend were more than 20 percent faster than they would have been on raceboards skimming the surface. But, no surprise, Rolex US Yachtsman of the Year Johnny "it must be yachting" Heineken set the pace and won 10 races out of 12. American Bryan Lake, a foiling pioneer, and French riders Jean-Guillaume Rivaud and Hervé Rousseau at times pushed him hard.
Having watched from the sidelines, I can vouch that our two-time world champion slurped up a lot of San Francisco Bay developing his chops in his first month on a foil. Johnny's fellow raceboard veteran Adam Koch, also newly launched on foils, describes getting it wrong as, "like falling off a six-foot ladder, and then it pile-drives you in and runs you down."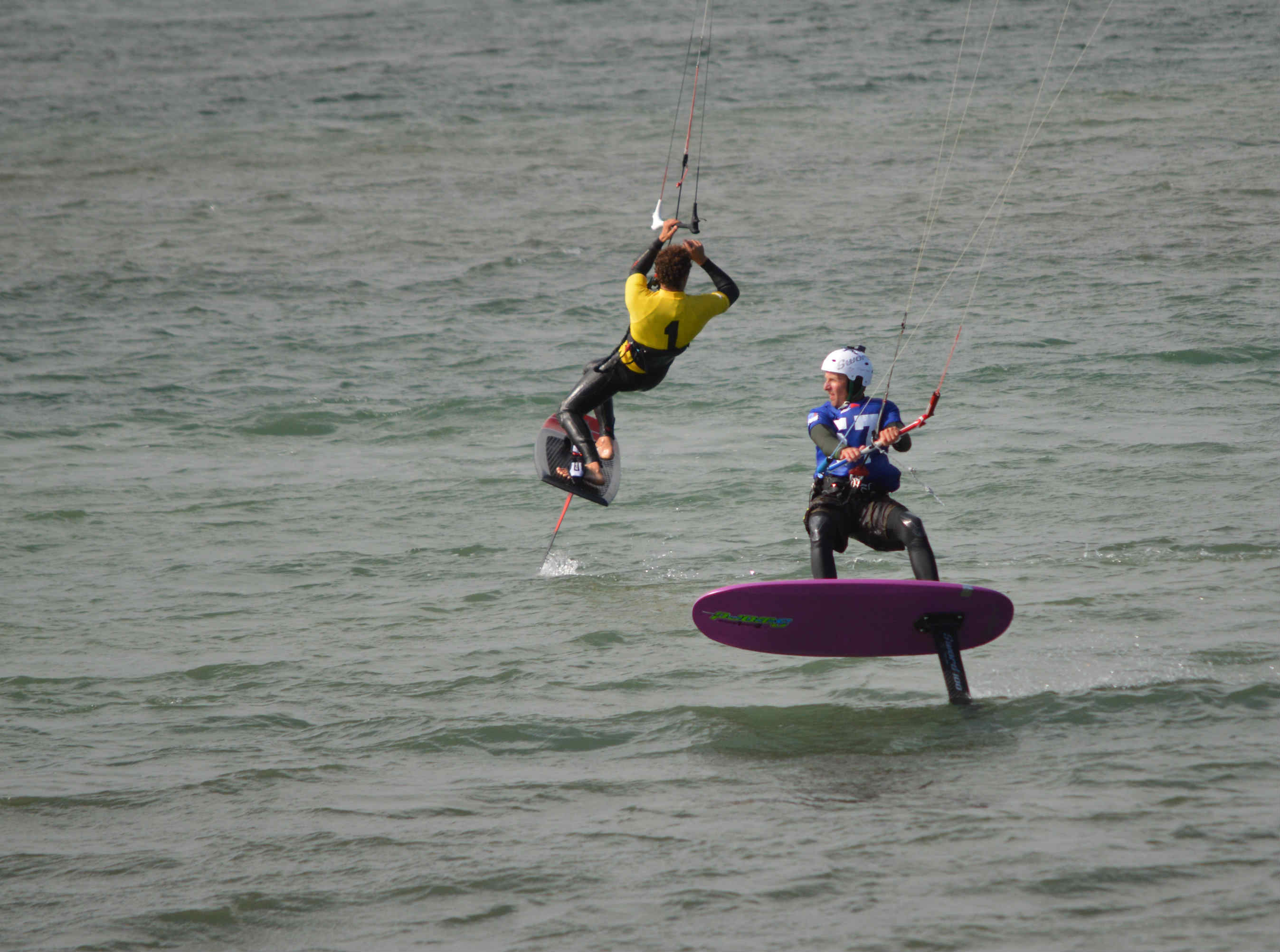 Photo © KL
So, Adam, that sounds, um, great, not to mention you're probably going pretty fast at impact.
But when it's right?
Take away a board slapping the surface, and the surprise is the silence of it all. "Foiling is easier, physically, than sailing a raceboard," Koch said, "but it takes focus. It's Zen. You have to trust. Don't think. I haven't once wanted to go back to a raceboard since I started foiling. It changed my life."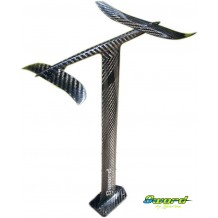 Frenchman Remi Delahaye designed the Taaroa Sword foils that both Heineken and Koch were riding (displayed inverted, on right), and he came to San Francisco to meet his "passionate clients." Delahaye's foils have a much higher aspect ratio than the foils that appeared at the inaugural world championship in 2009—also sailed out of St. Francis Yacht Club—foils that were fast upwind but slow downwind. Delahaye regards this as a standard product. "It's a thirty-knot foil," he says. "Sometimes the guys make 33,34. But I'm going to have a 40-knot foil that will be perfect for a few people like Johnny. He's amazing. He mastered this in one month. Then the top riders can decide on the beach which foil to use, depending on weight, wind, courage."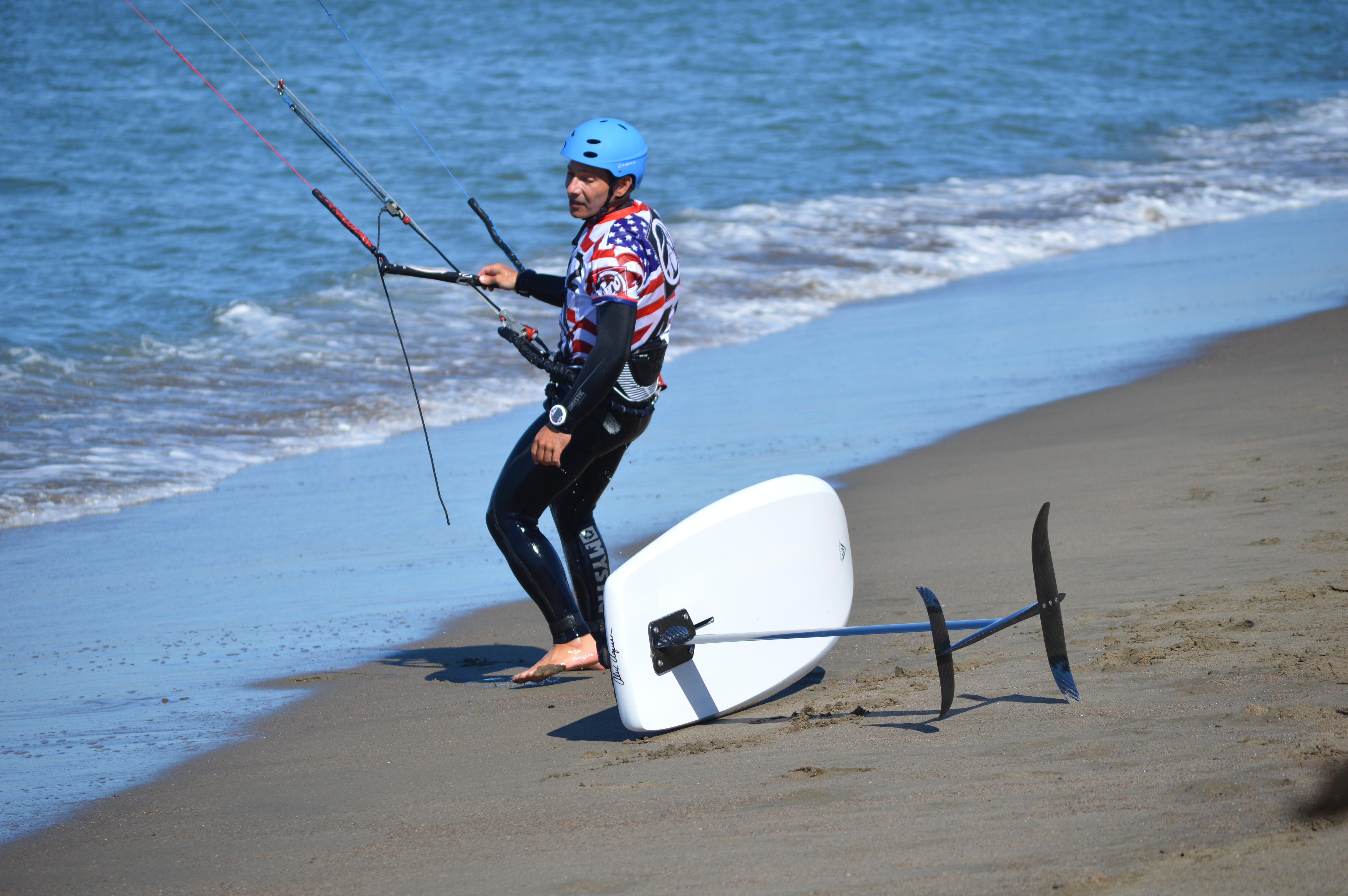 Ariel Poler plots his next move. Photo © KL
Heineken was not necessarily faster in a straight line than the Frenchmen who made the journey to sail on Heineken's home waters. He was faster through the corners (in one month, remember) and perhaps savvier on choosing his corners. The French have been at this for a while, btw, and have been holding regattas with split fleets for raceboards and foilers.
I think we have a new normal.
Kites were launched from the beach just west of the clubhouse, and it helps to have beach assist . . .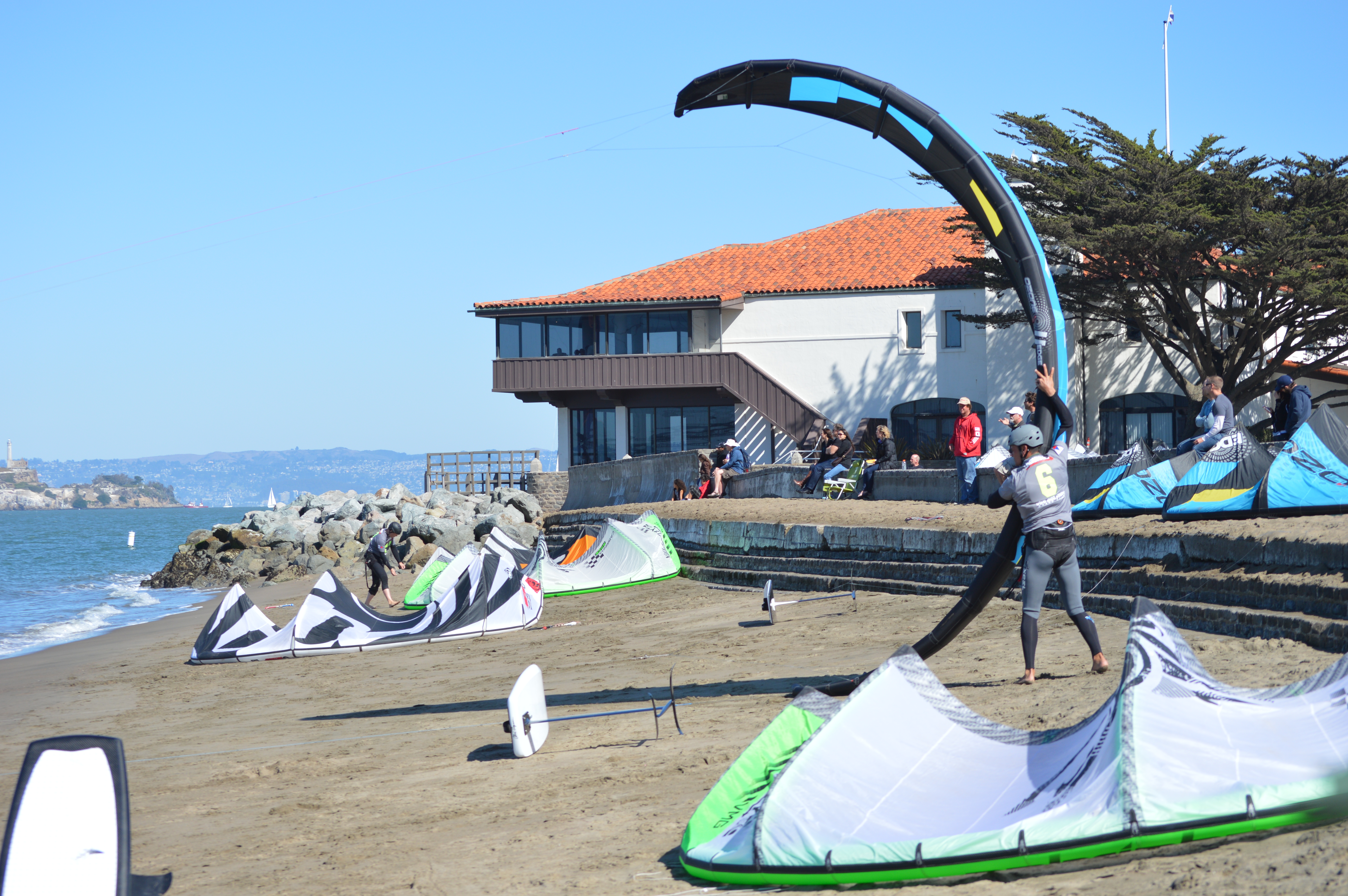 Photo © KL
Launch styles varied . . .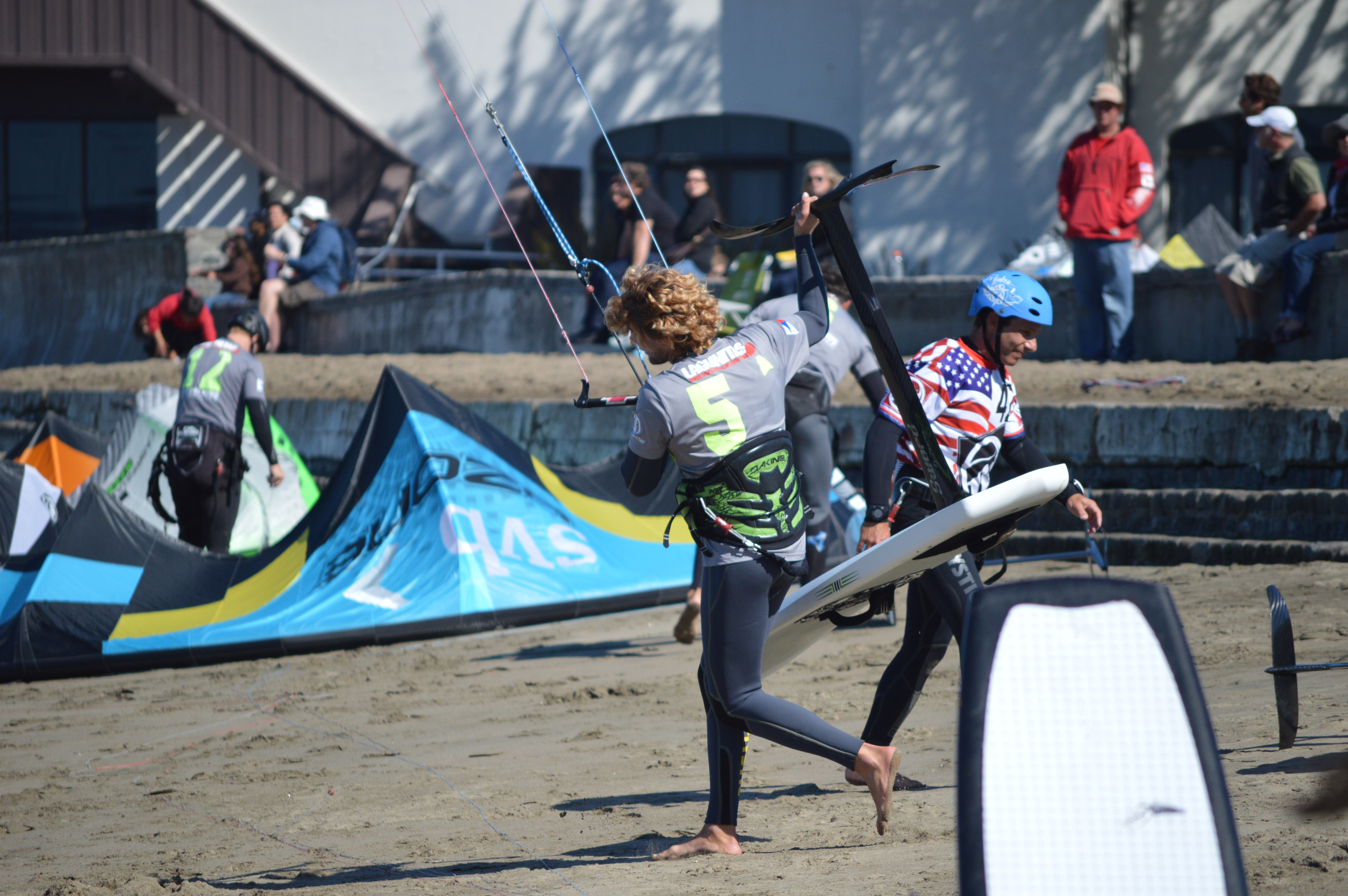 Kite launched, foil in hand, Johnny makes a dash for the water. Photo © KL
Another difference between early foils and the new models is minimum foiling speed. Koch explained that with the new, high aspect foils, "You have to go fast to make them work. Speed is your safety net, and then they're stable. It's a quick learning curve. You see in a hurry that your body has to be in line with the mast of the foils. You don't lean left or right [relative to the board] the way you would on a surfboard. The control mojo is all front-back, to manage the porpoise. If the foil lifts to the surface it's game over. If the board slaps down, you spin out, so you're motivated to keep it in the groove.
"I've been through I-14s, and I've been through the apparent wind game with 49ers. Then it was kiteboards. Now I'm really into balancing on a stick."
Joe Cool has a quickie on youtube here.
My report—Kimball
.